One of the most anticipated fashion shows of the year 2017, was presented at the classy Parisian Grand Palais, on 3rd of July. Even a sultry 30-degree heatwave inside the glass atrium  of the legendary  hall could not wilt the glamour conjured within.
Tweeds, mohairs, and wools come in shades of russet, ocher, bordeaux, and brown for the Fall‑Winter 2017/18 Haute Couture collection. "Feathers treated like fur" appear on shoulders, dress necklines, and the pockets of the suits created by Karl Lagerfeld.
All the looks of the incredible collection are here: 
Karl transplanted the Eiffel Tower, a monolith of the Parisian landscape, to the Grand Palais in typically bombastic fashion and rebranded it #ChanelTower. Guests were seated on a gravel runway, perched on chic iterations of the folding dark green metal chairs that litter the Jardin du Luxembourg.
shot by Karl Lagerfeld.
The Show Invitation Had Cubist Leanings
Karl Lagerfeld chose the 1926 oil painting of La Tour Eiffel by Robert Delaunay for the show invitation, deeming it "a symbol of avant-garde modernity". Chanel's website drew attention to Roland Barthes' observation in "The Eiffel Tower And Other Mythologies", that Maupassant often lunched in the Eiffel Tower restaurant, even though he didn't think much of the food, because it was the only place in Paris where he didn't have to see it.
"Whatever the season, through mist and cloud, on overcast days or in sunshine, in rain – wherever you are, whatever the landscape of roofs, domes, or branches separating you from it, the Tower is there," Barthes wrote.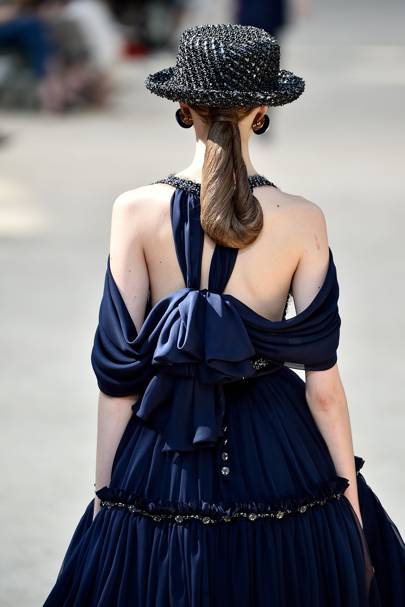 The Return of The Twist
Classic twists ruled the runways, teased into delicate patisserie-style swirls by Sam McKnight and held in place with gallons of hairspray.
Every model wore a flat hat and large pearl earrings
Evening gowns in gathered or draped satin, with shoulders bare or trimmed with feathers, are worn with matching boaters.
Classic black gave way to chain-trimmed tweed, patent leather and jazzy sequin-embroidered styles, all worn with golf-ball-size pearl earrings.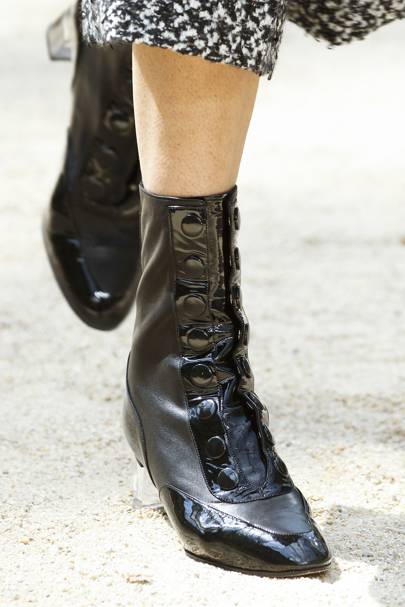 Patent Boots Offset Traditional Tweeds
Shelve the suede: models wore knee-high and ankle-length patent boots in black, cream and beige, adding an edge to the fripperies of razor-sliced tulle, feathers and tweed. Patent always looks slicker.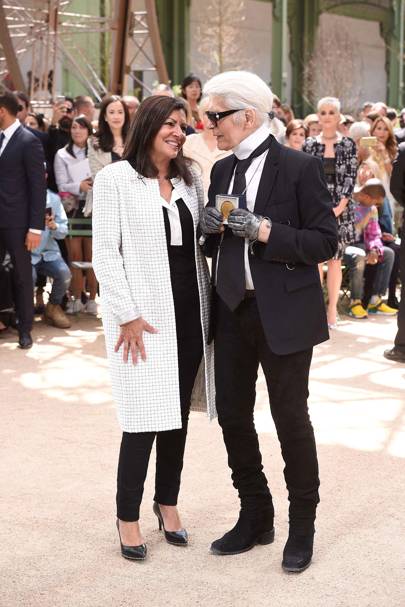 Karl  Lagerfeld Was Honoured
The famed creative director, Karl Lagerfeld, wass presented with a Grand Vermeil medal by the Mayor of Paris for his contribution to the fashion industry.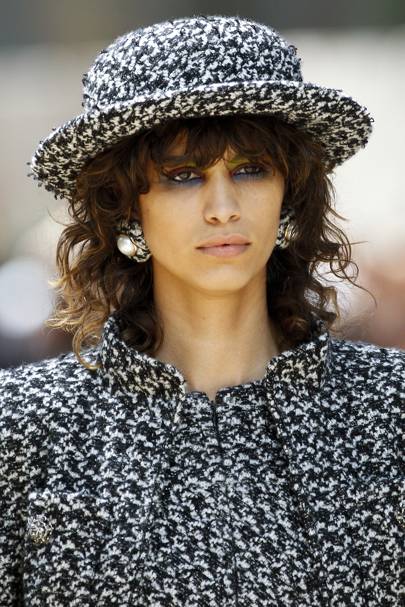 EVEN a stifling 30-degree heatwave inside the glass atrium of the Grand Palais could not wilt the glamour conjured within.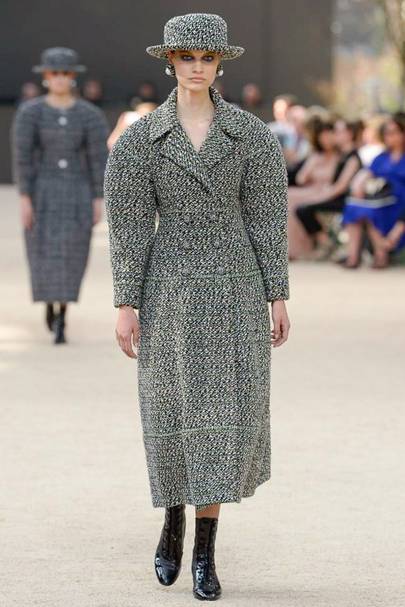 Born in 1933, Karl Lagerfeld has not lost the instinctual flare required at Chanel to seamlessly marry the new with storied tradition.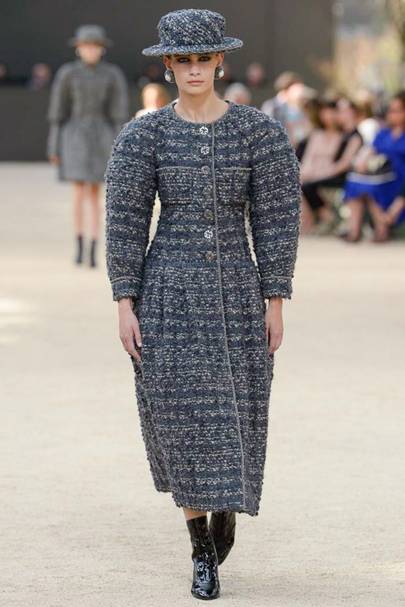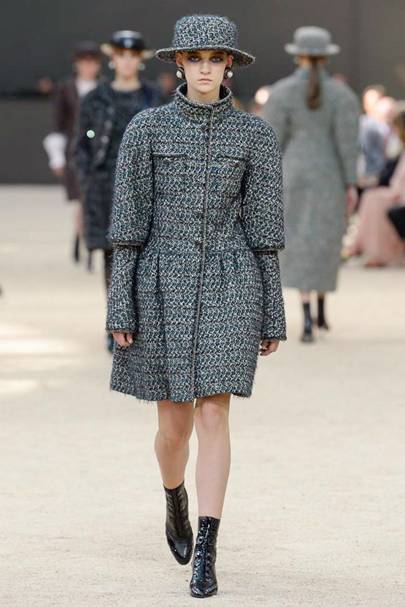 So too with the collection, where signature marks of the brand were given gentle tweaks to bring them up to date. With couture any one piece can cost upwards of five figures.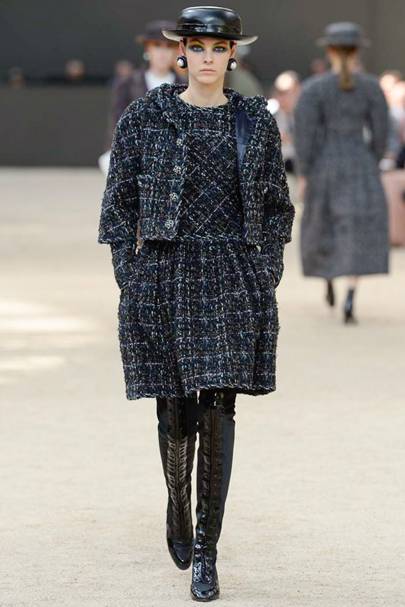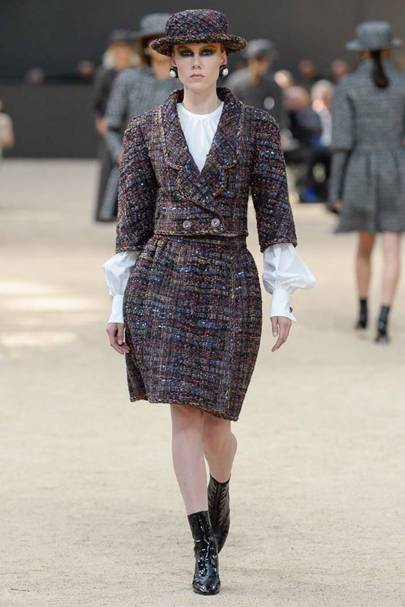 This is a collection serving an elite crowd, who do not see these investments as one season wonders. Below an almost life-size replica of the Eiffel Tower the show began with a series of classic tweed suits in warm shades of charcoal and peat, mirroring Coco Chanel's first boucle wool creations, introduced a decade before Lagerfeld's birth.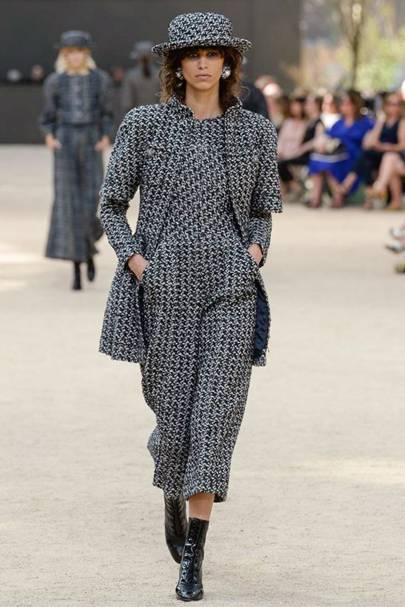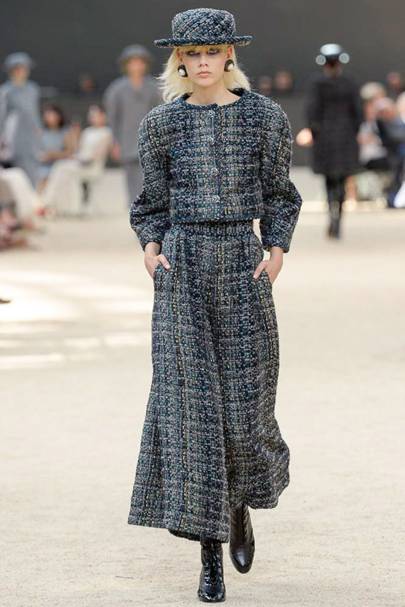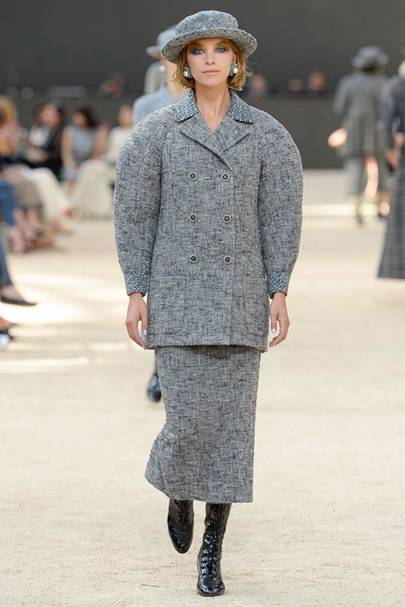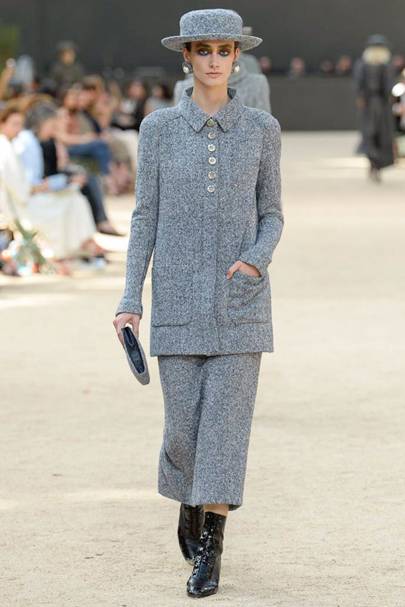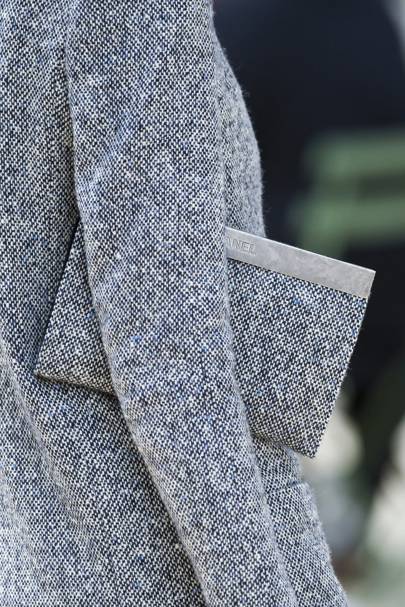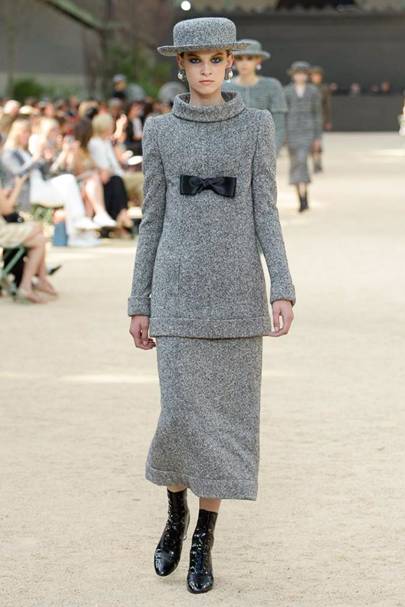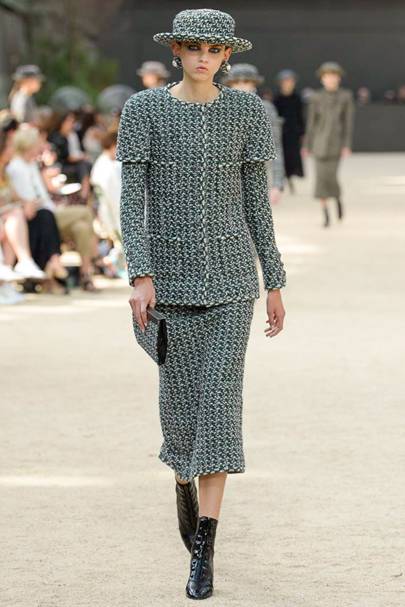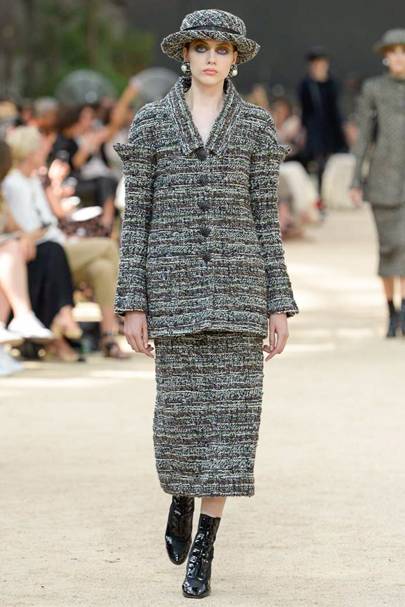 This season the jackets came over-sized with voluminous sleeves and capacious proportions and longer skirts. While cropped jackets were married with flared skirts or worn over wool minis, ankle-skimming tunics came with cute hoods and all paired with black buttoned, perspex-heeled ankle boots, a boucle boater and dramatic rainbow striped eye make-up.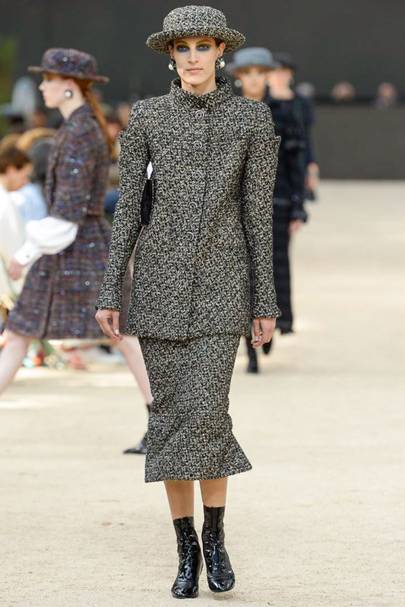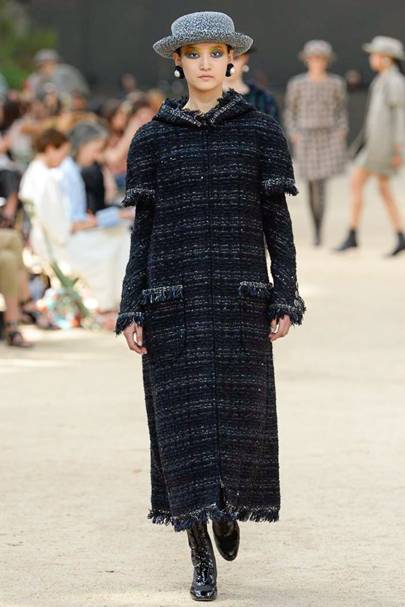 Chanel can afford to shrug off the pomp, such is the mastery of its couture ateliers that you know each and every LBD that shimmied past was fashioned with exquisite, painstaking care.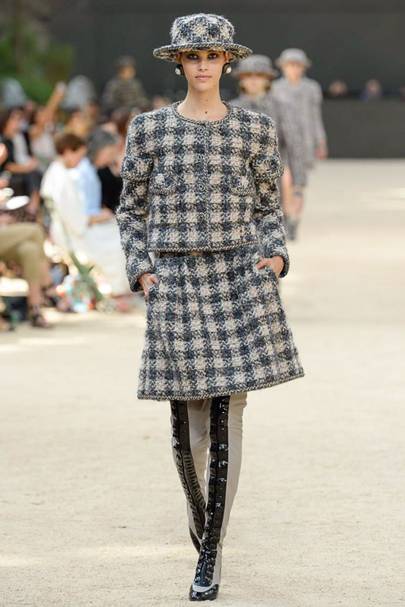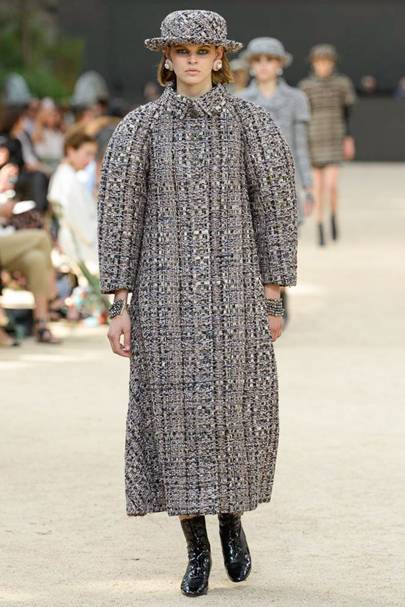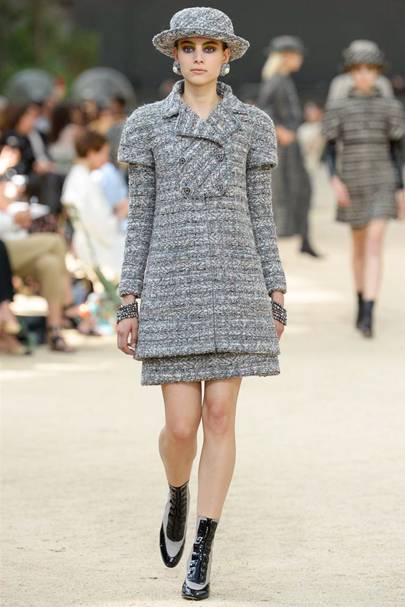 Not that this collection was without a few showstoppers. One gown dripped with delicate chains of jade jewels, while a full silk skirt flounced provocatively beneath. And another inky black creation swept past in majestic grandeur, pulling a lengthy train behind, feathered rosettes pinned delicately to the hem.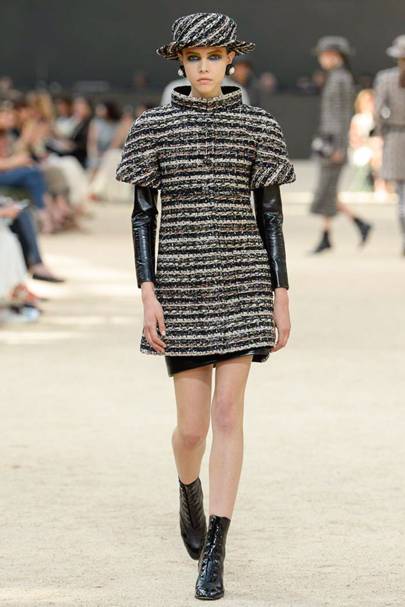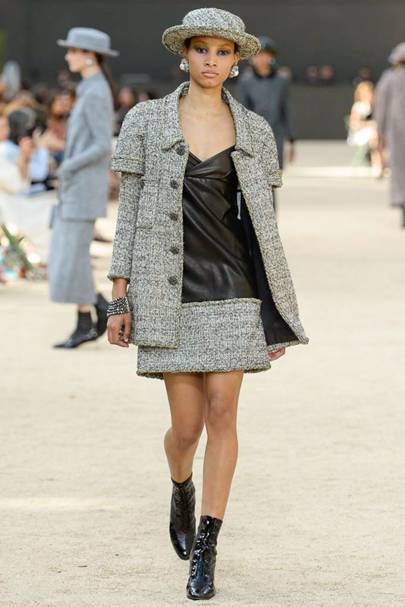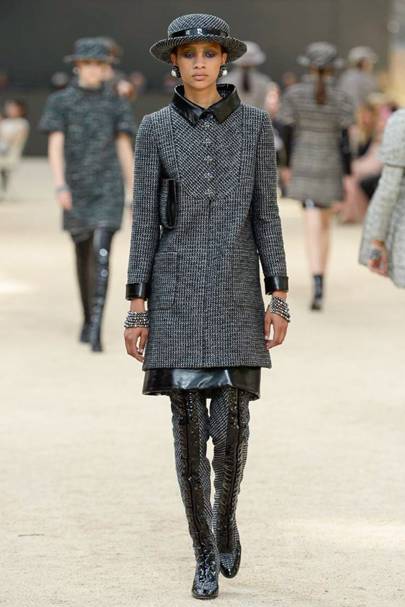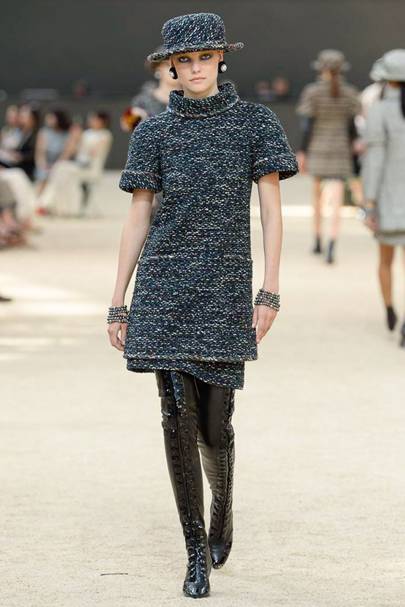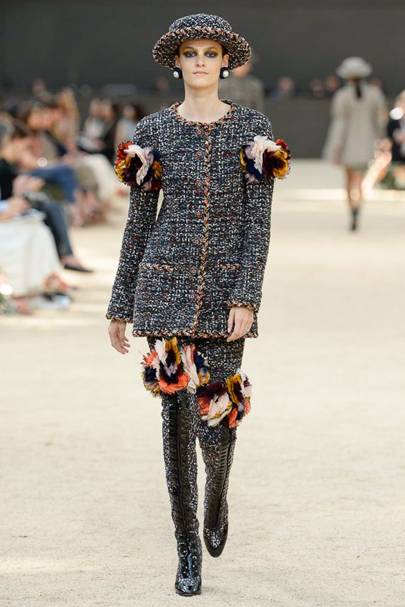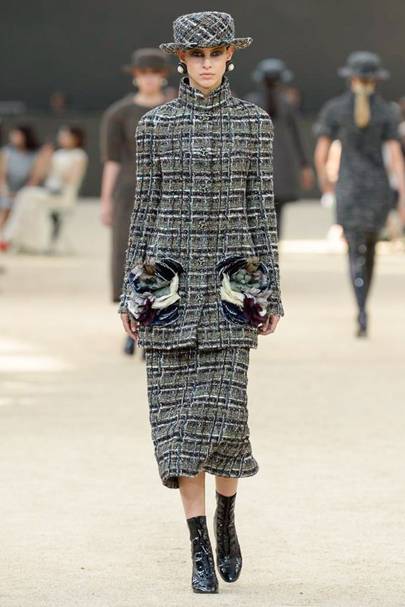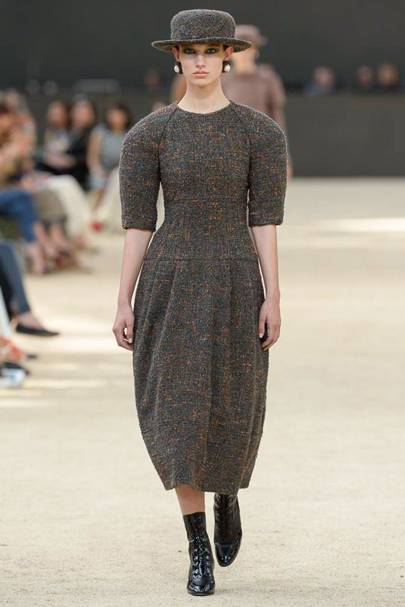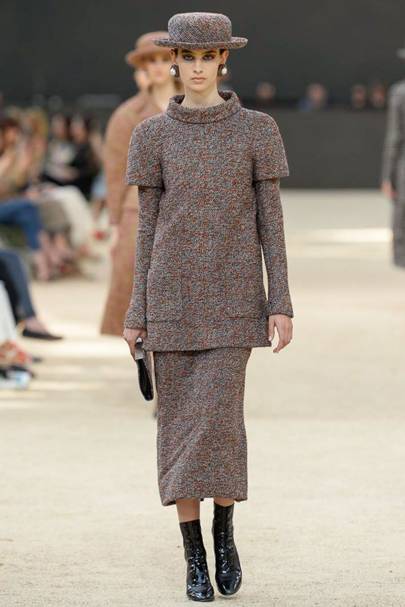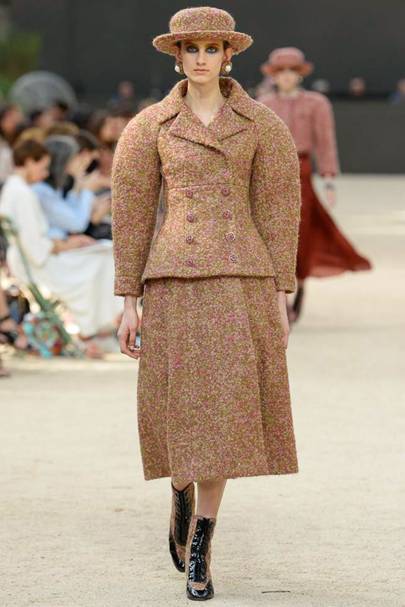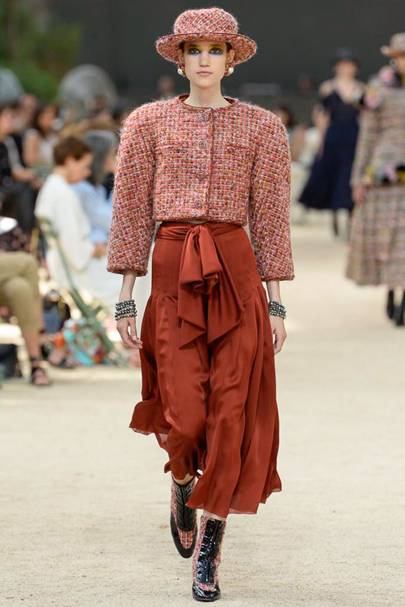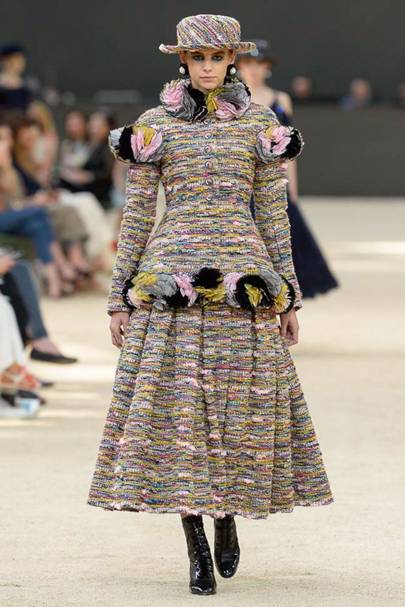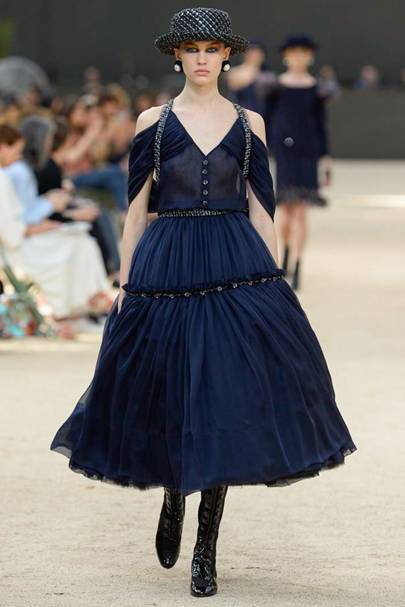 Other silk and tulle dresses and tweed tunics bristled with plumes of brightly-coloured feathers, as fanciful as a pheasant in its autumn finery. The very same birds Coco would have witnessed on her many trips to Scotland when staying with the Duke of Westminster.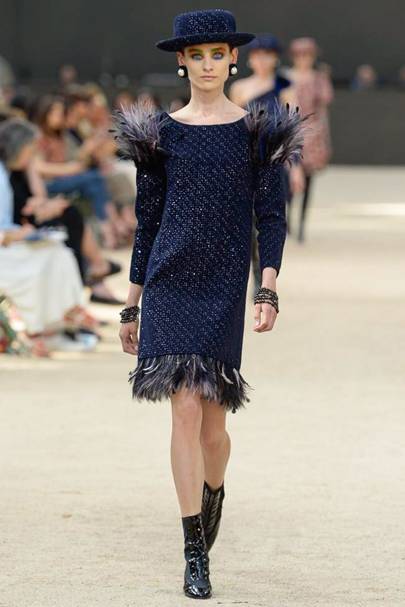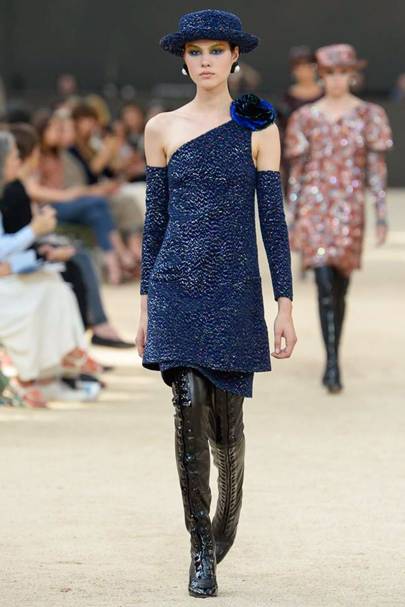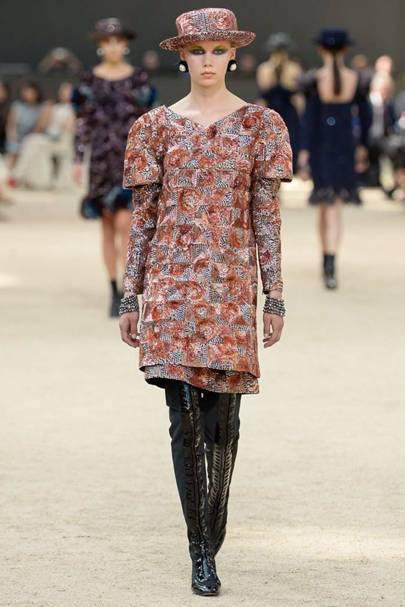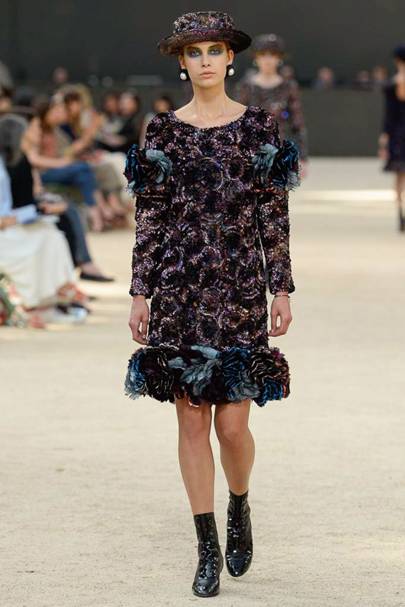 Couture and the lifestyle that accompanies it may only be available to the global super-rich but it still provides a lifeline of fantasy for the rest of us.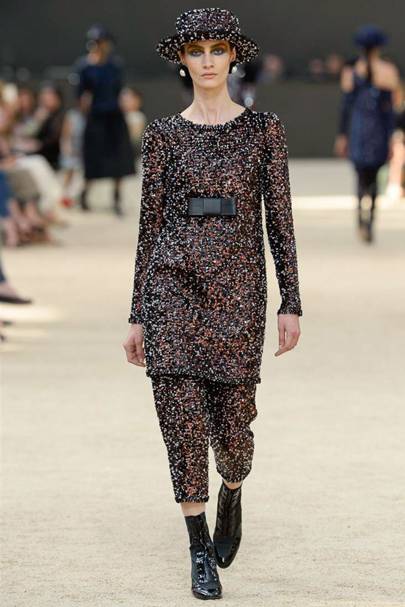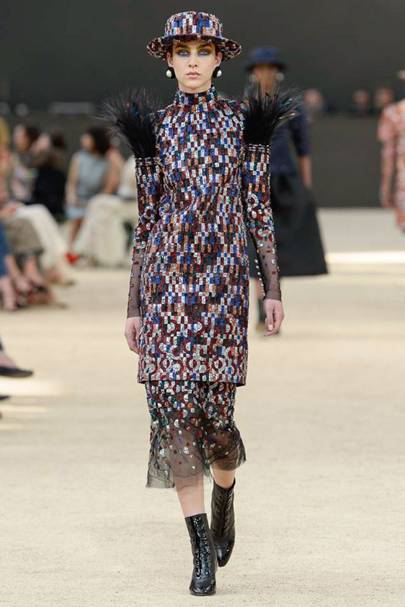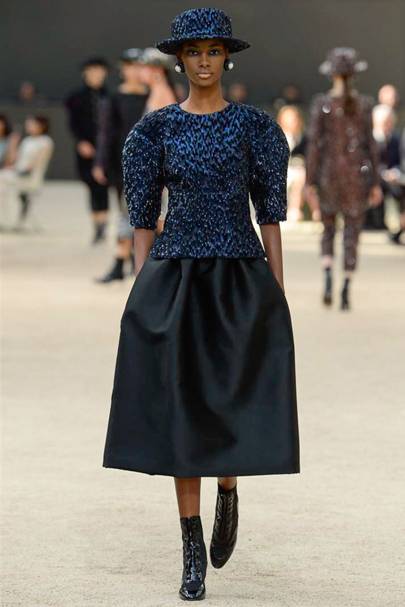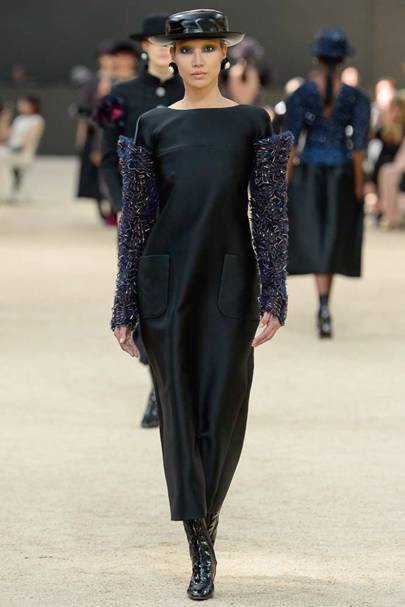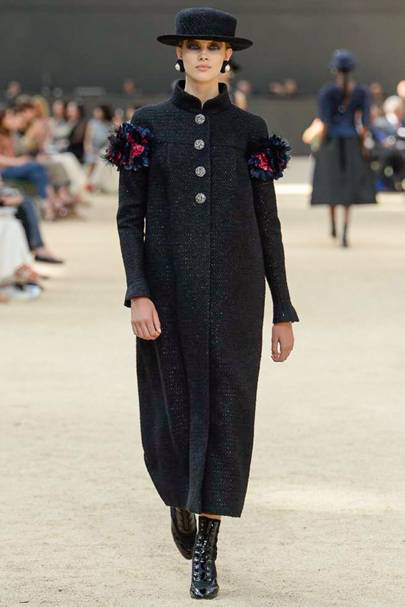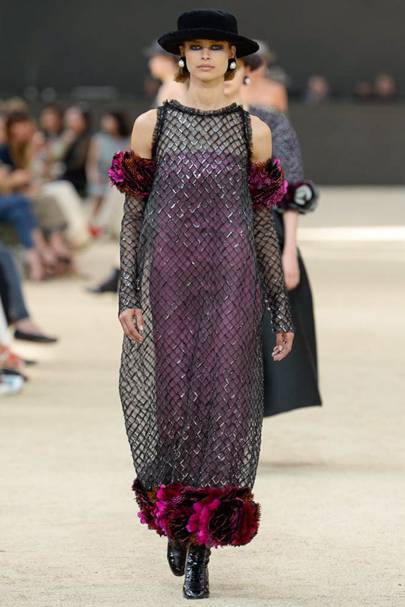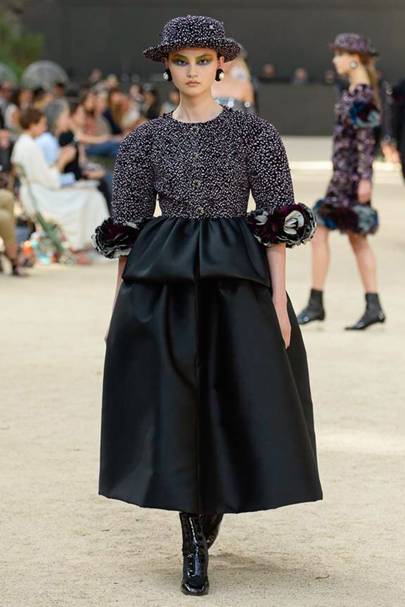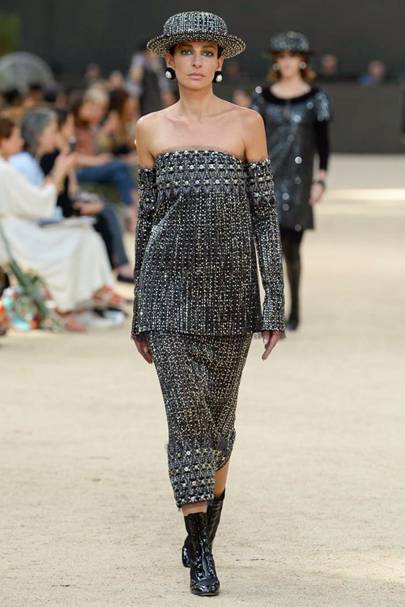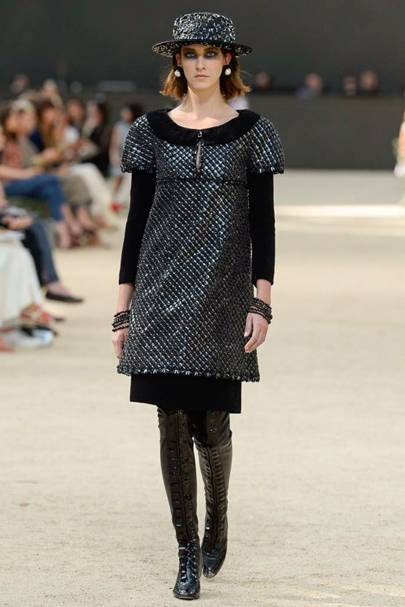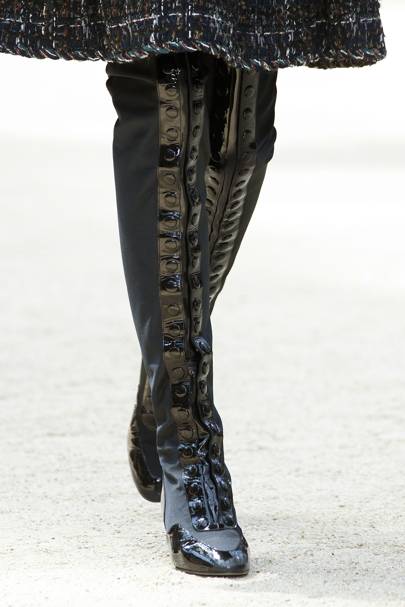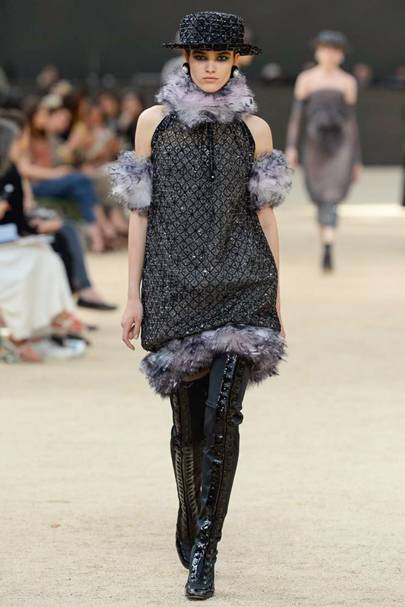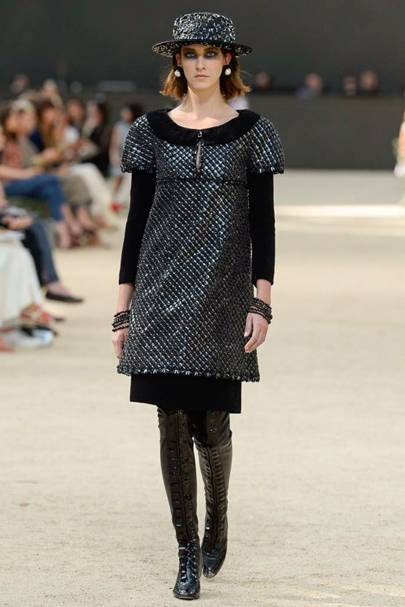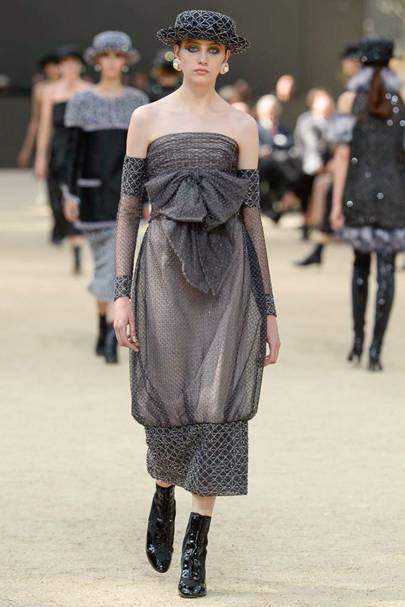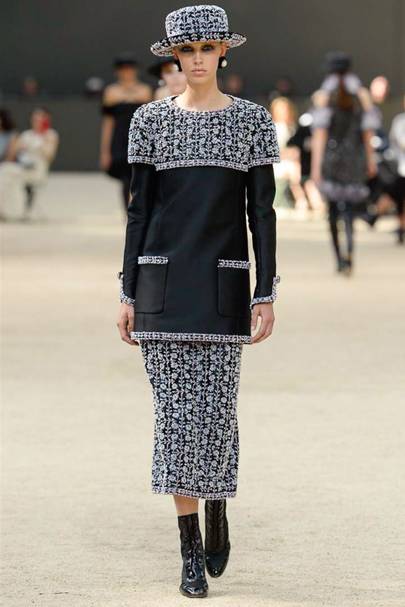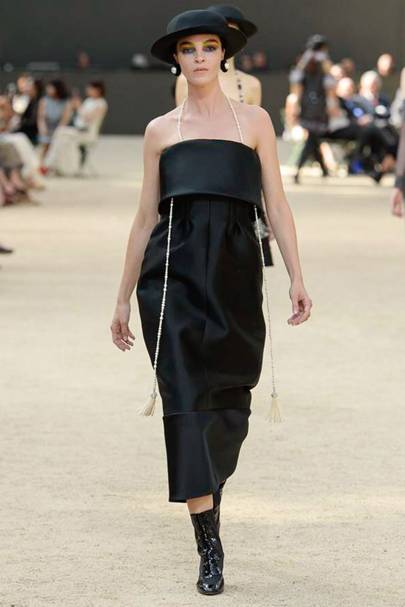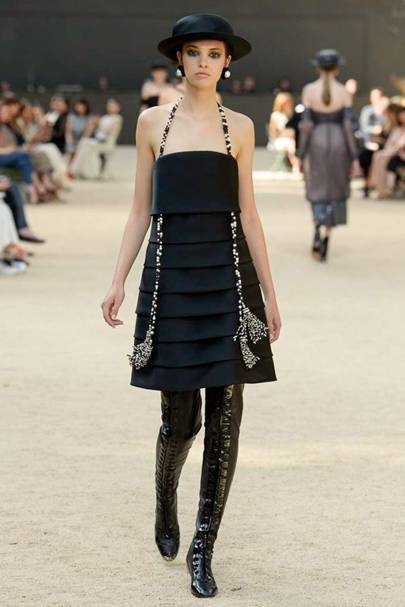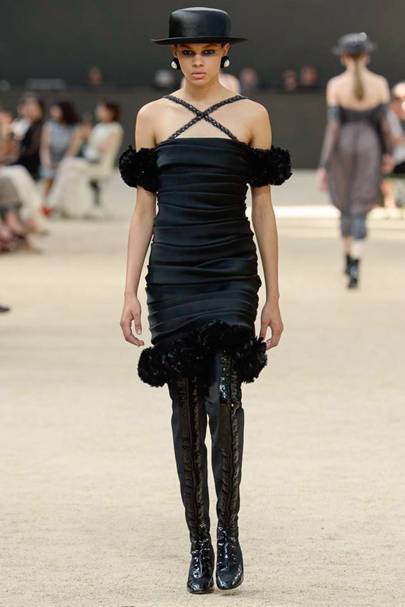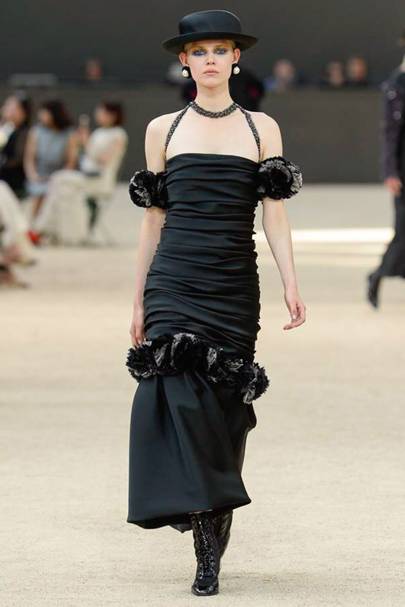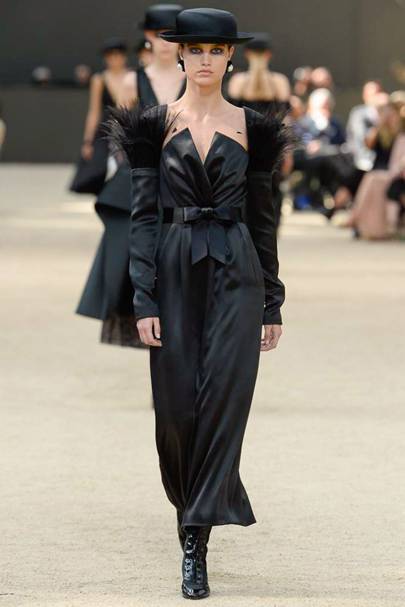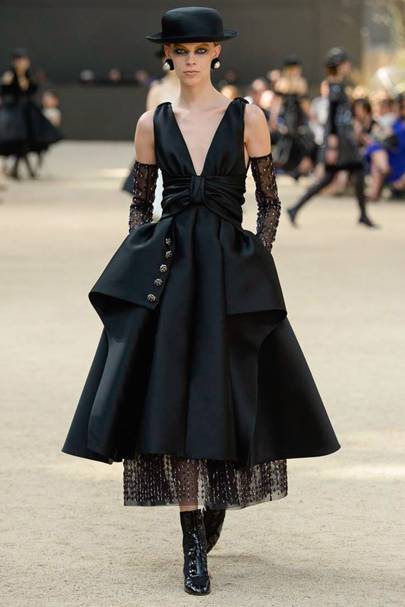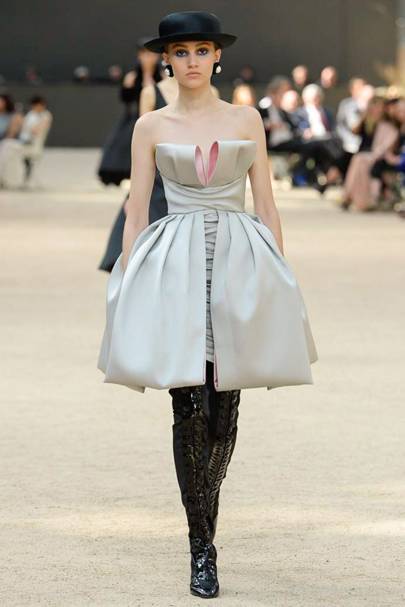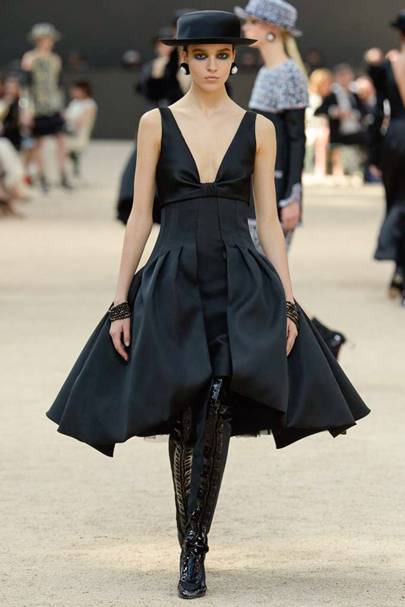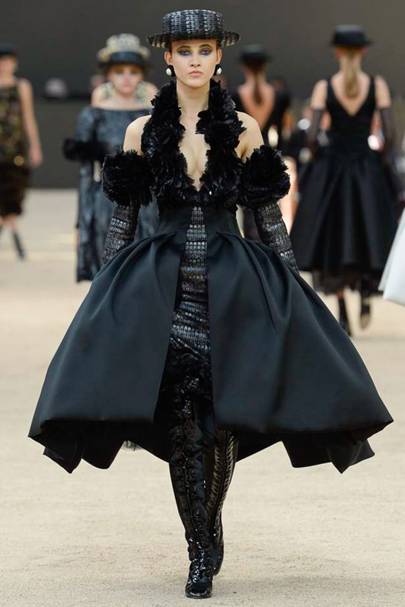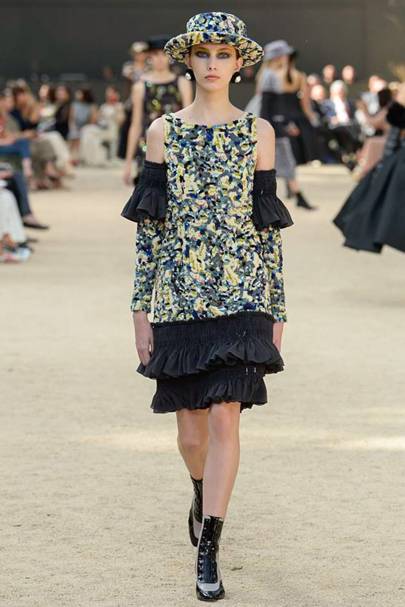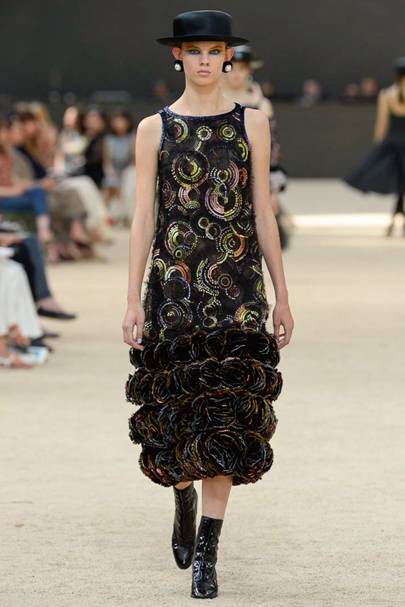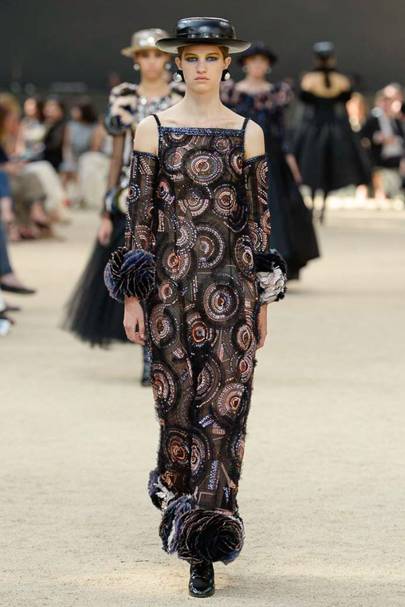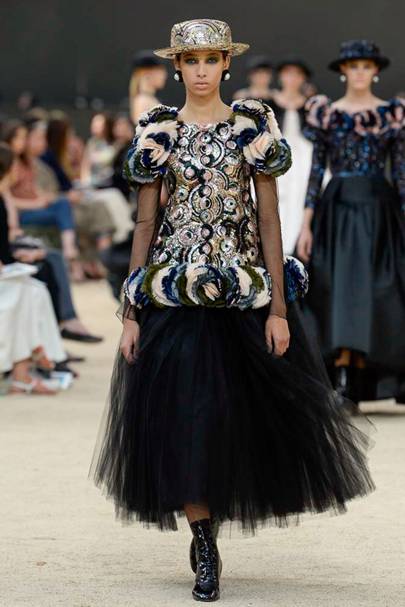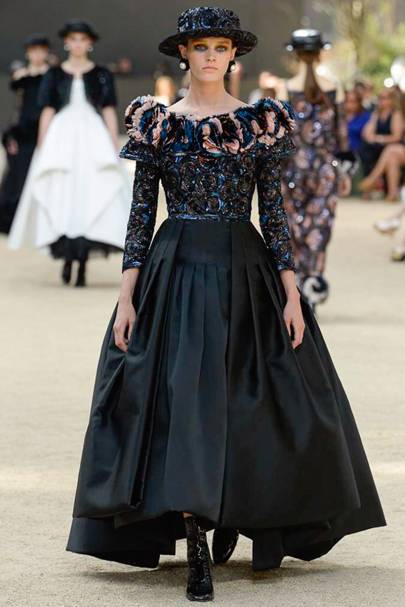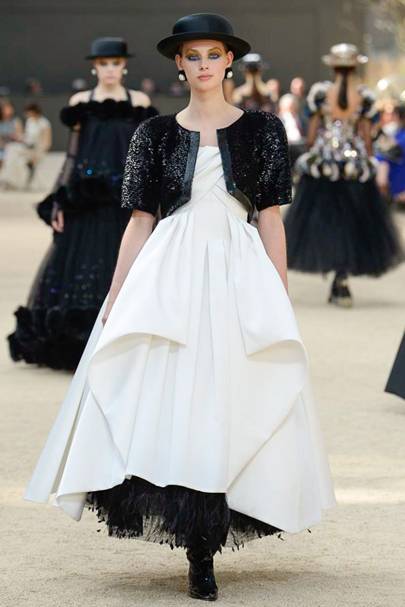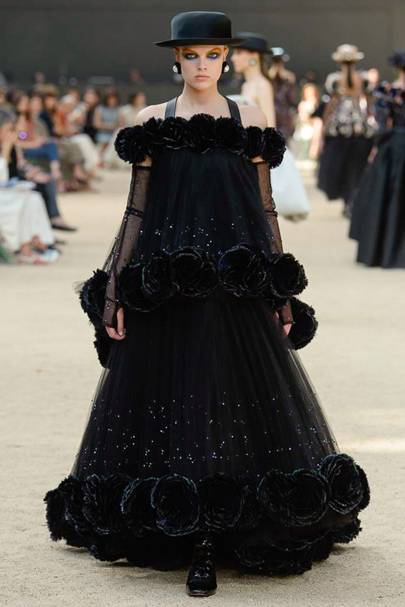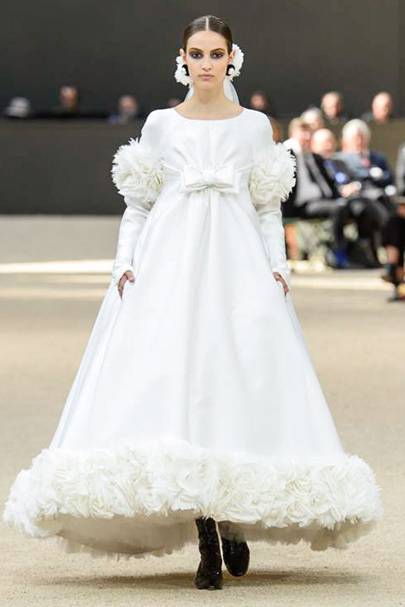 Details…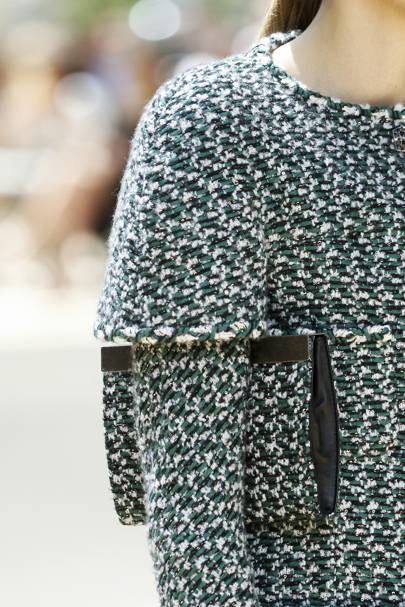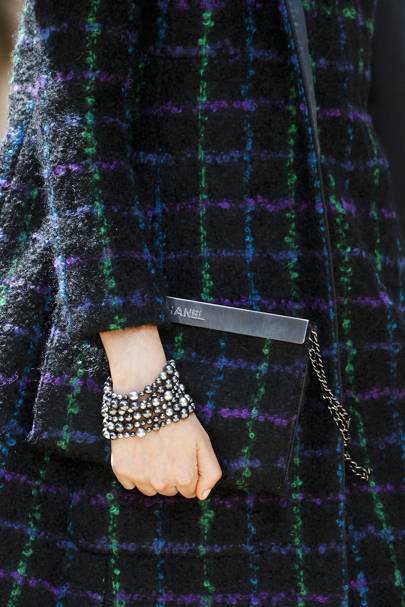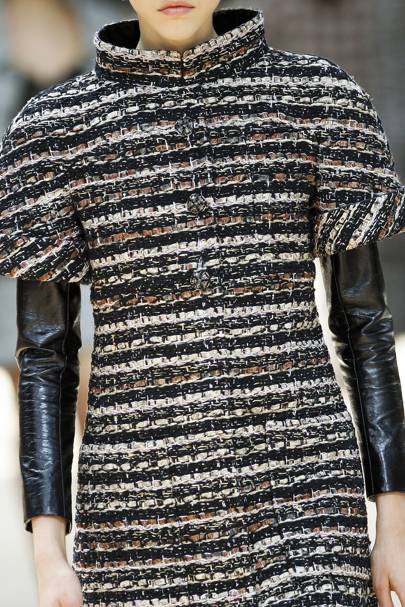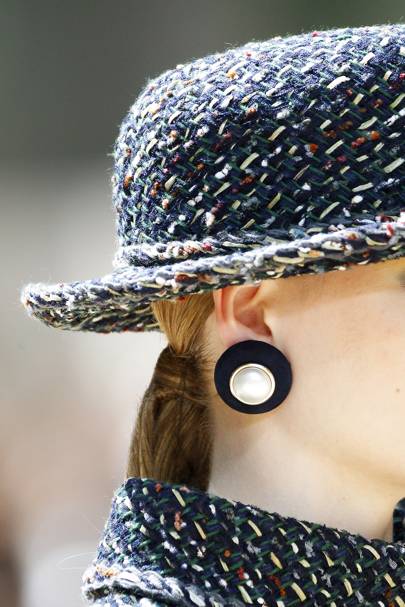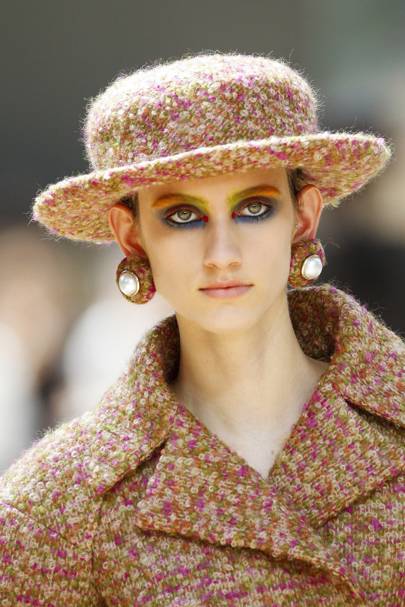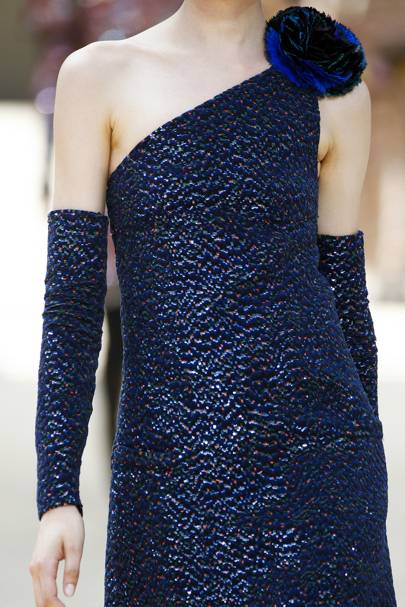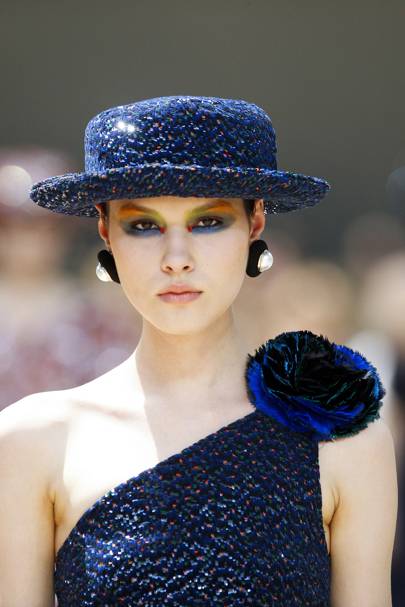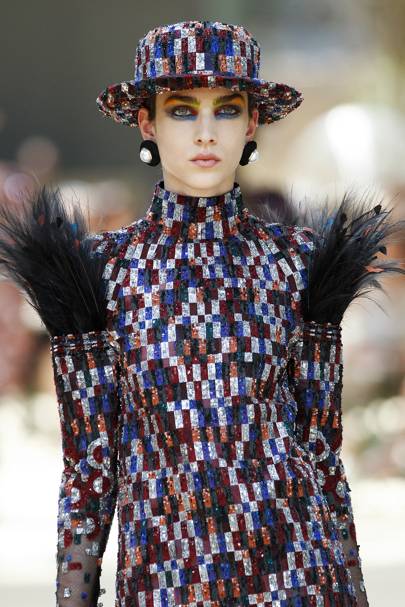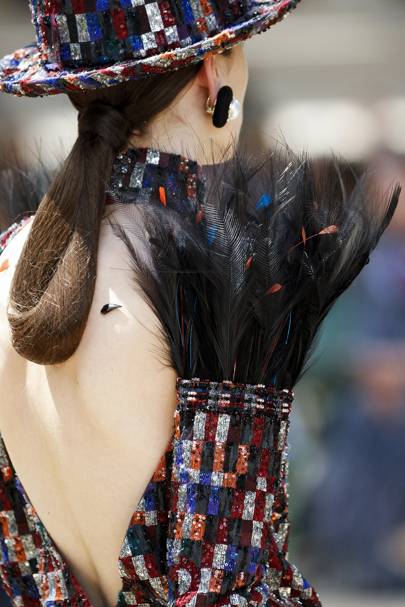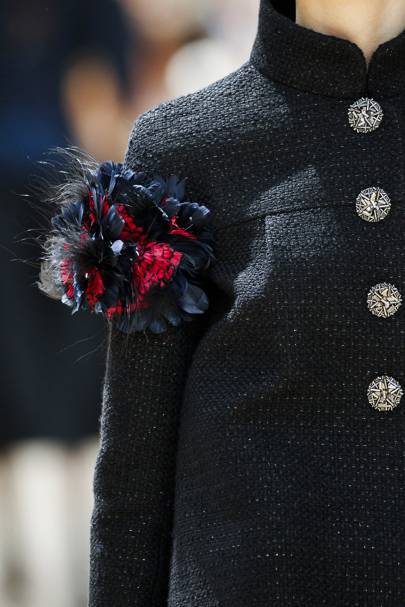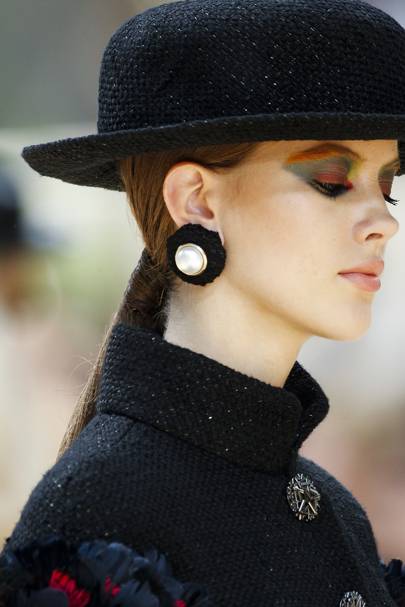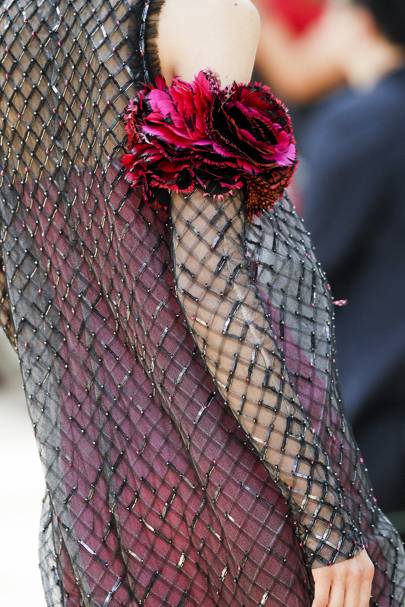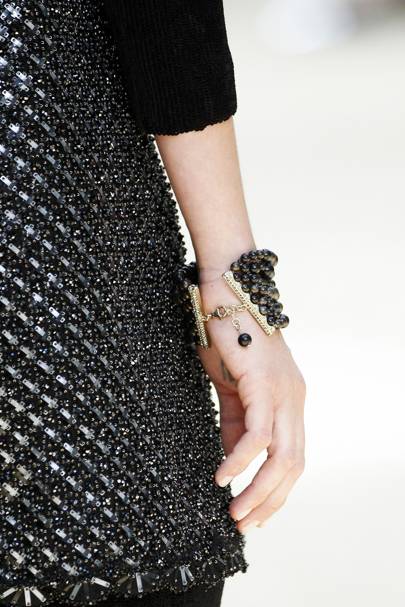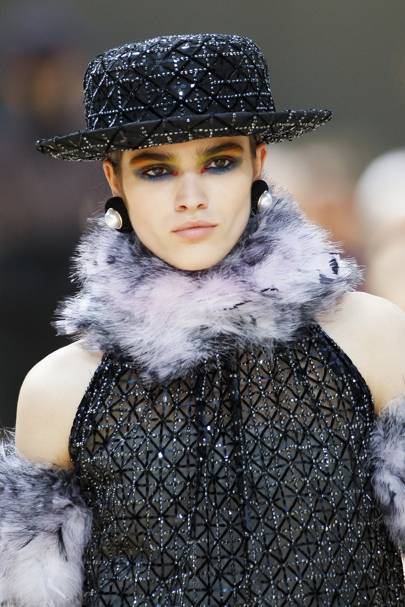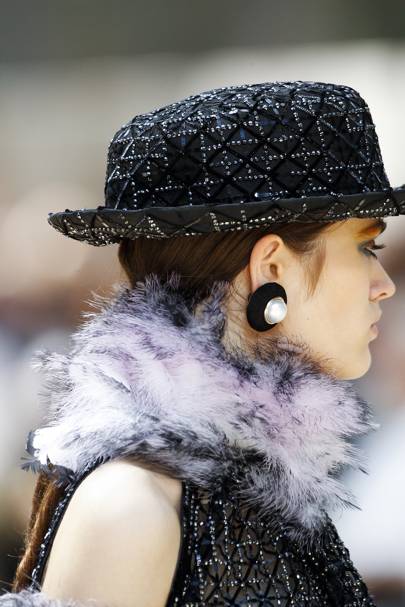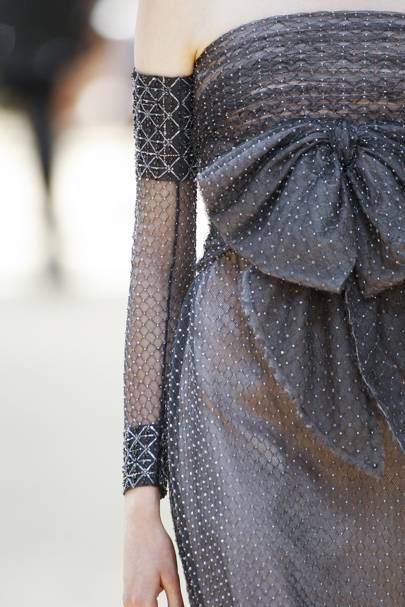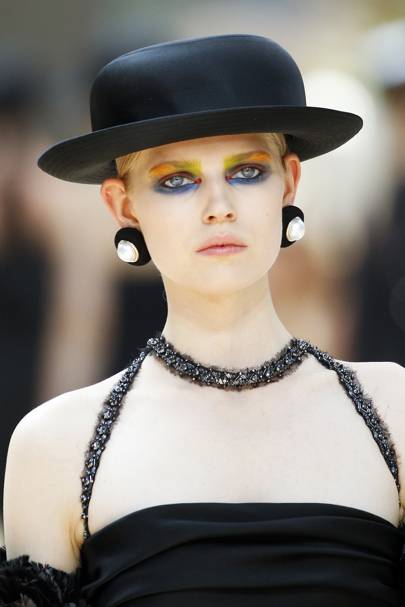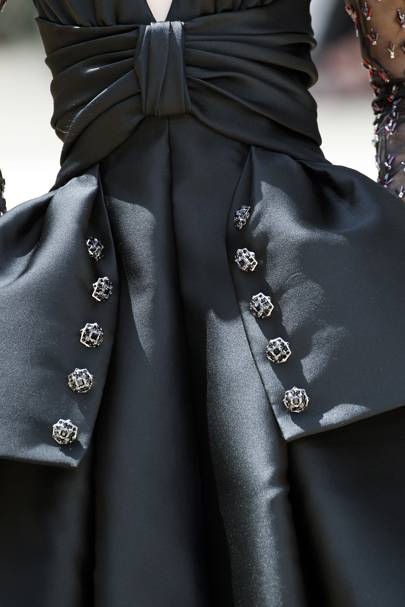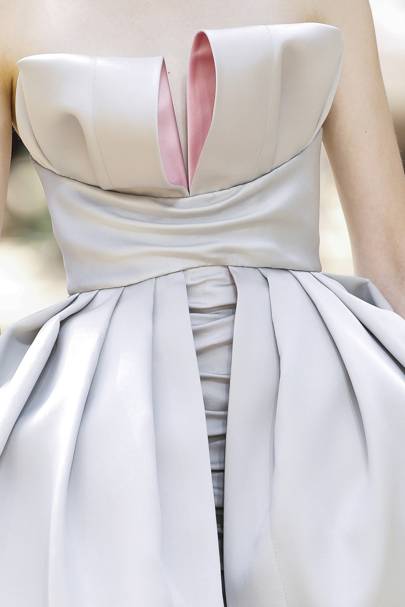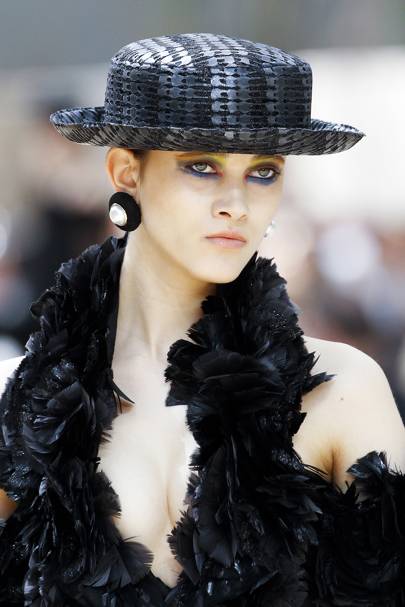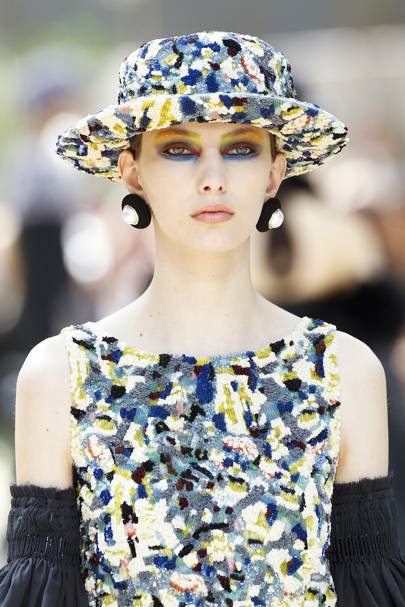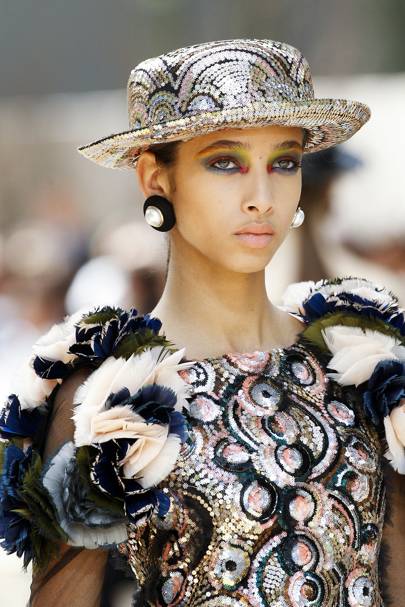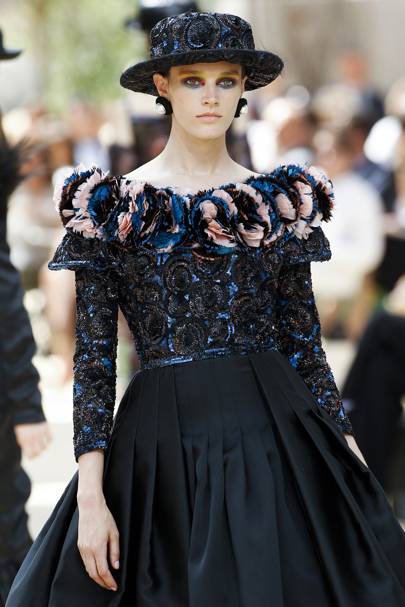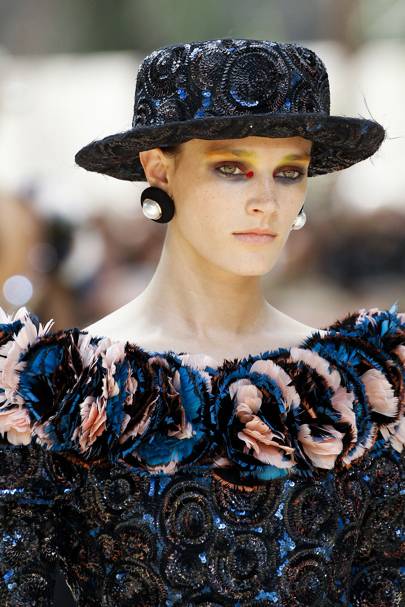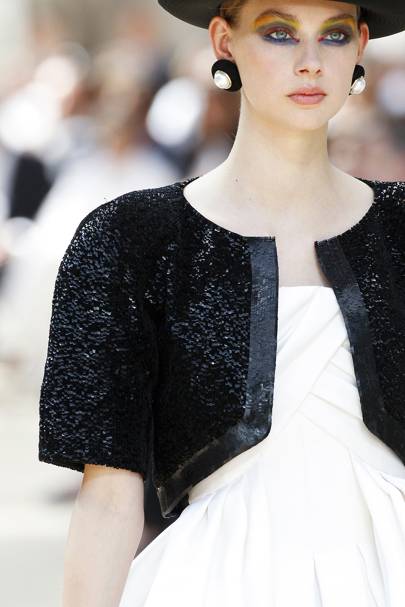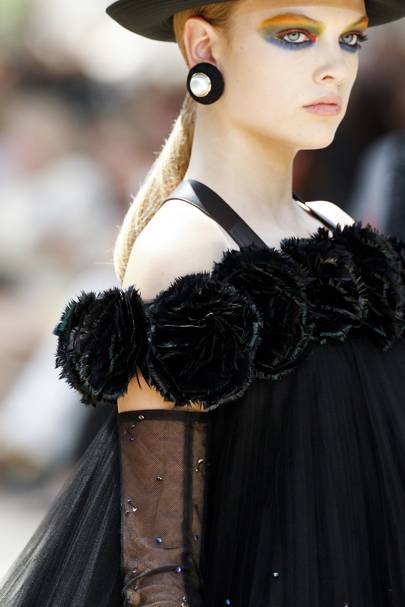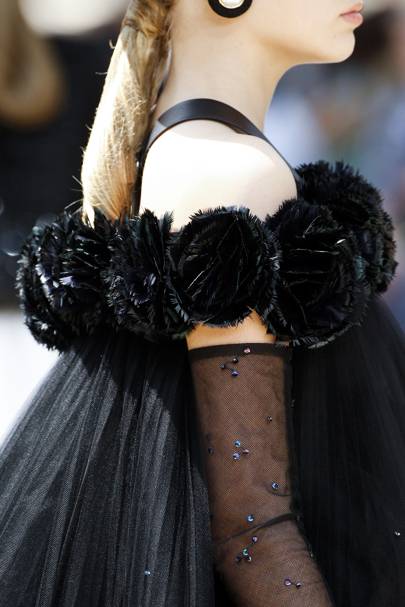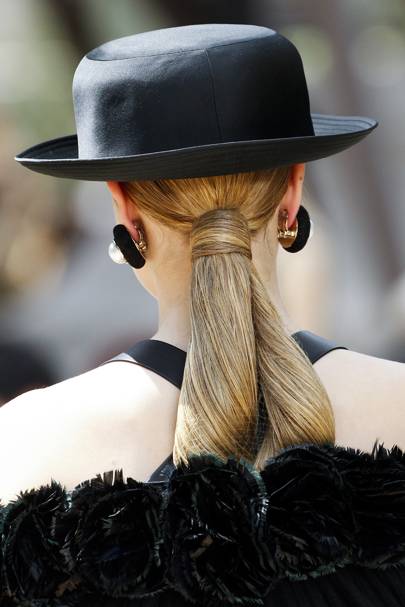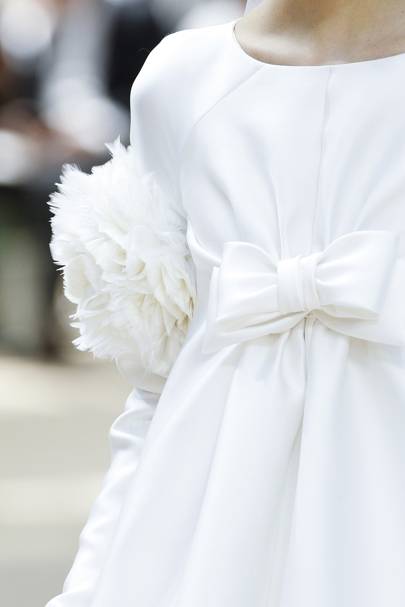 Via British Vogue   & Chanel News 
Big Thanks !