'The isles of Greece, the isles of Greece, eternal summer gilds them yet…'
Lord Byron was on to something when he waxed lyrical about the Greek islands. But with more than 200 to choose from, which one is right for you? After a difficult decision to be taken, because of the fact that each one is unique and there is so much beauty to be  revealed in any case, here are the best Greek islands to visit this summer.
These sunny islands are the perfect half-term hideout. Easy to get to, with fabulous beaches, clean waters, delicious food and a cheek-pinching matriarchal love of local  people.
Best Greek island for: a long weekend with the art crowd
You know when Dakis Joannou, Greece's foremost art collector, is on Hydra. His yacht, Guilty, is painted in garish 'camouflage' by Jeff Koons. Every summer, Joannou invites big hitters such as Matthew Barney and Maurizio Cattelan to create site-specific installations in the Greek island's old slaughterhouse. Even the school is commandeered for exhibitions in the summer holidays. Car-free and protected by a preservation order, Hydra has always been the artists' muse of the Greek Islands. Leonard Cohen, Brice Marden and Juergen Teller have homes here. Athenian artists take up residence at the SCHOOL OF FINE ARTS, one of the vast, grey, stone mansions overlooking the horseshoe harbour.
Less than two hours from Athens, Hydra fills up with chic Greeks at weekends. Wily cats and weary donkeys patrol the back alleys, but all the action happens along the waterfront. Oh look! There's Olivia Palermo at THE PIRATE BAR and Chloë Sevigny shaking her tail feather at HYDRONETTA BEACH BAR. Who cares if there are barely any beaches? You can always find a slab of rock from which to dive into the clearest water in the world.
OH LOOK! THERE'S OLIVIA PALERMO AT THE PIRATE BAR AND CHLOË SEVIGNY SHAKING HER TAIL FEATHER AT HYDRONETTA BEACH BAR
Where to stay in Hydra
Built in 1796, nine-room Orloff Boutique Hotel oozes old-world charm. If a pool is a priority, check into atmospheric Bratsera. To get in with the art crowd, stay at a leading local Artist's Villa .
Search for Hydra's Hotels and Villas here
Best of the Greek islands for: Decadent parties and five-star hotels
Mykonos has seduced glamorous hedonists since the 1960s. It had gay clubs and sunrise parties before rave culture was even invented. Its bohemian allure has never faded, although nudist beaches now have nail bars, personal trainers and house music pumping out all hours.
The influx of supermodels and superyachts has inspired ever more decadent resorts and restaurants. The latest place to show off your abs is SCORPIOS, a louche beach bar that puts Ibiza's finest in the shade (book a cabana to watch the sunset). After hours, it's always ASTRA, where you might find Keith Richards chatting up Karolina Kurkova.
If the glitzy excess gets too much, escape to KIKI'S, an off-grid grill-shack overlooking AGIOS SOSTIS BAY, where even Naomi Campbell has to queue for a table. Or cruise over to the tiny island of DELOS, an archaeological sanctuary that once thronged with 30,000 sun worshippers (the temple is dedicated to Apollo, the Greek god of light).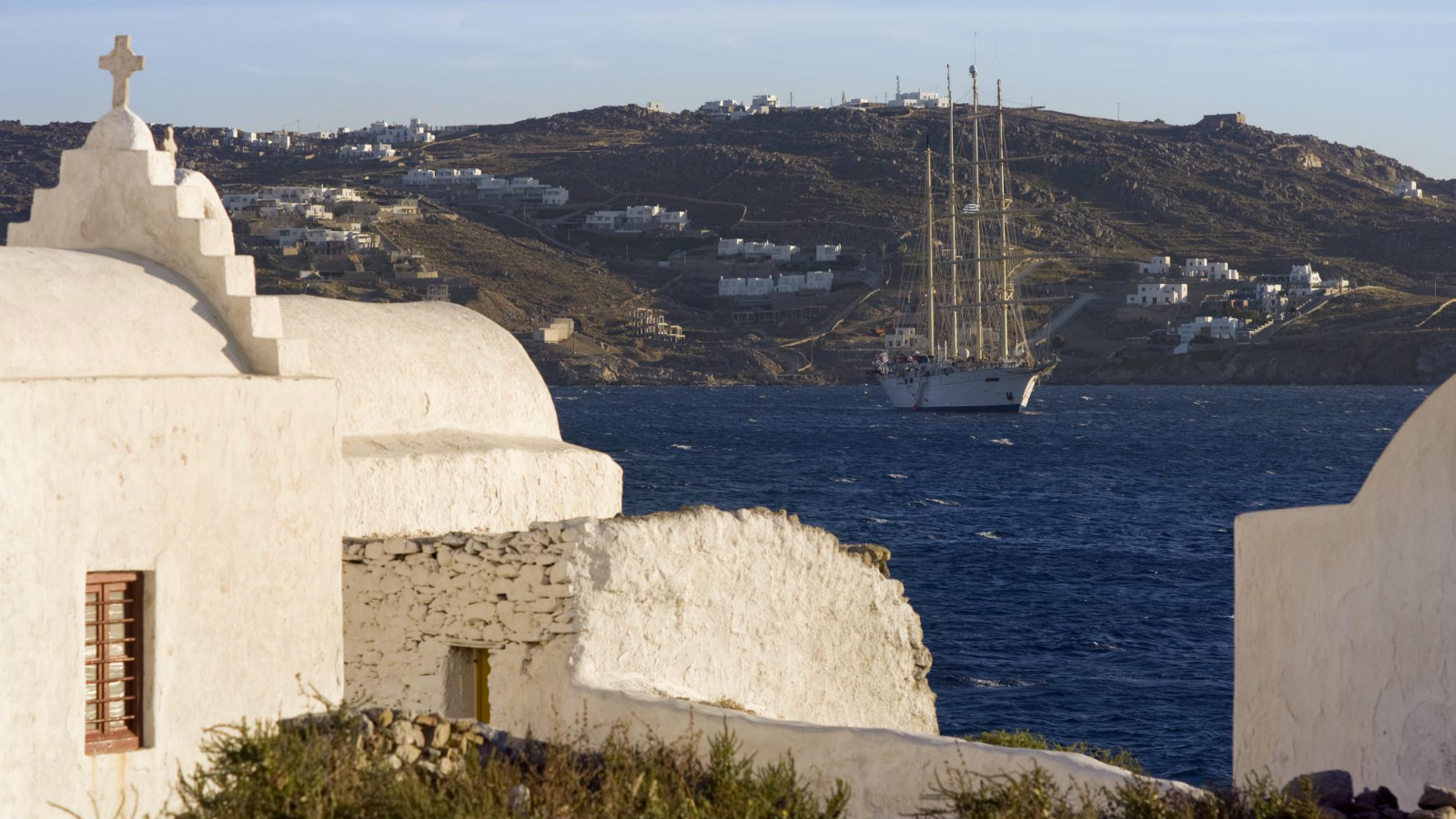 Where to stay in Mykonos
Pale and interesting, Bill & Coo Coast on Agios Ioannis beach is 2016's hottest opening. San Giorgio, overlooking Paranga beach, captures the original bohemian spirit of Mykonos.
And Finally the Legendary ,
SANTA MARINA, MYKONOS proves to be the Best choice…
see why…!
Forget about nightclubs and the hedonistic party vibe. The Greek island of Mykonos has, just like Ibiza, a calmer family-friendly side. Although this hotel isn't suitable for those with toddlers – there are far too many low walls and unnerving drops – for children just that little bit older it's bliss: close to the airport, with super-friendly staff, and gorgeous views.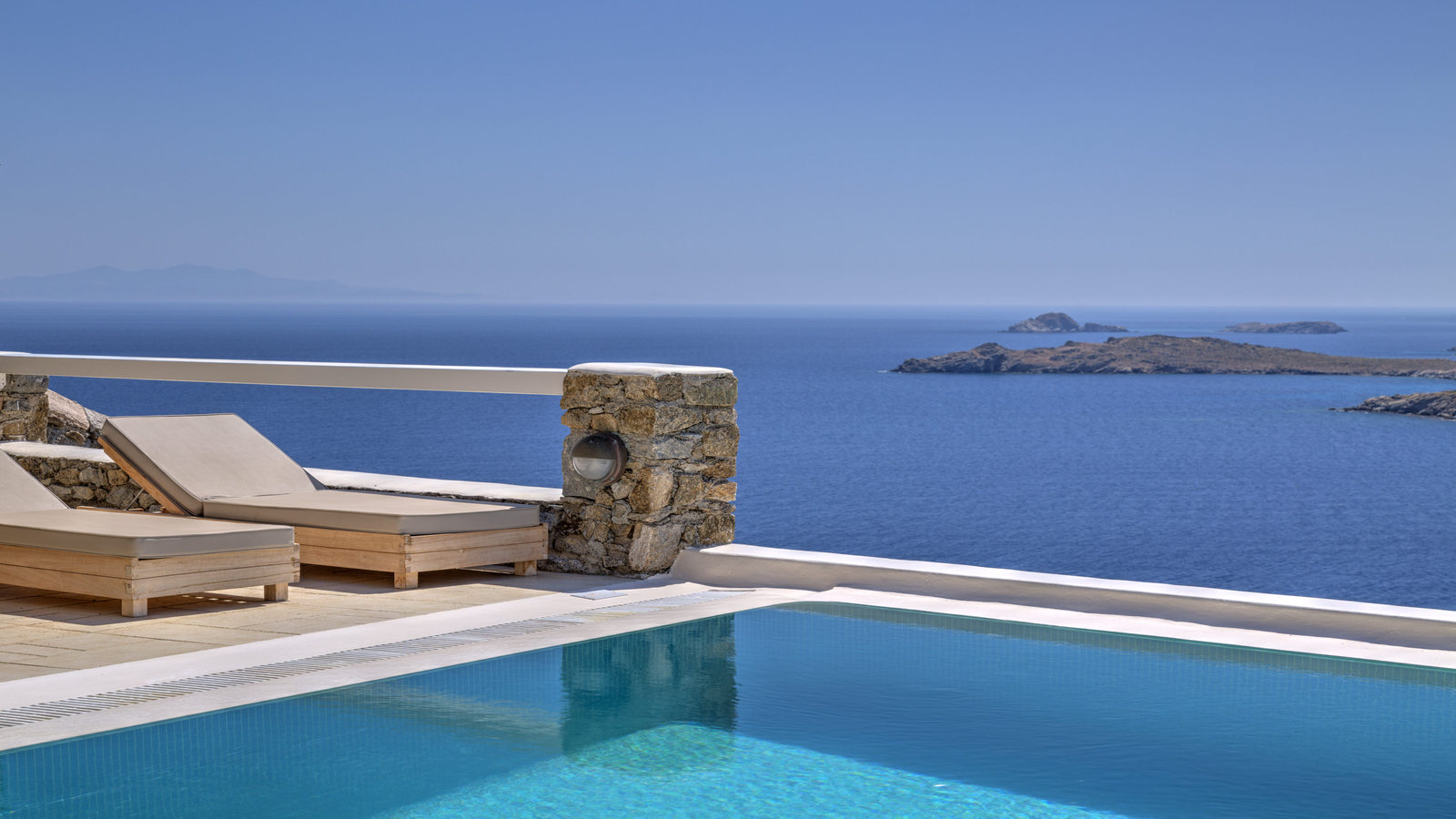 Whether you're staring out to Ornos Bay with its bobbing boats and backdrop of sugar-cube houses, or out the other way over the turquoise sea, with the hazy outline of Paros and Naxos in the distance – you'll be serenely happy. Even more so, perhaps, on discovering the kids' club, set right next to the main pool and free for those aged between two and 12. There are stacks of games and cheery English-speaking staff, so they probably won't even notice you're gone. Add to this a tennis court with resident coach, a brilliant playground and a pretty beach. The rooms, suites and villas have had a revamp this year.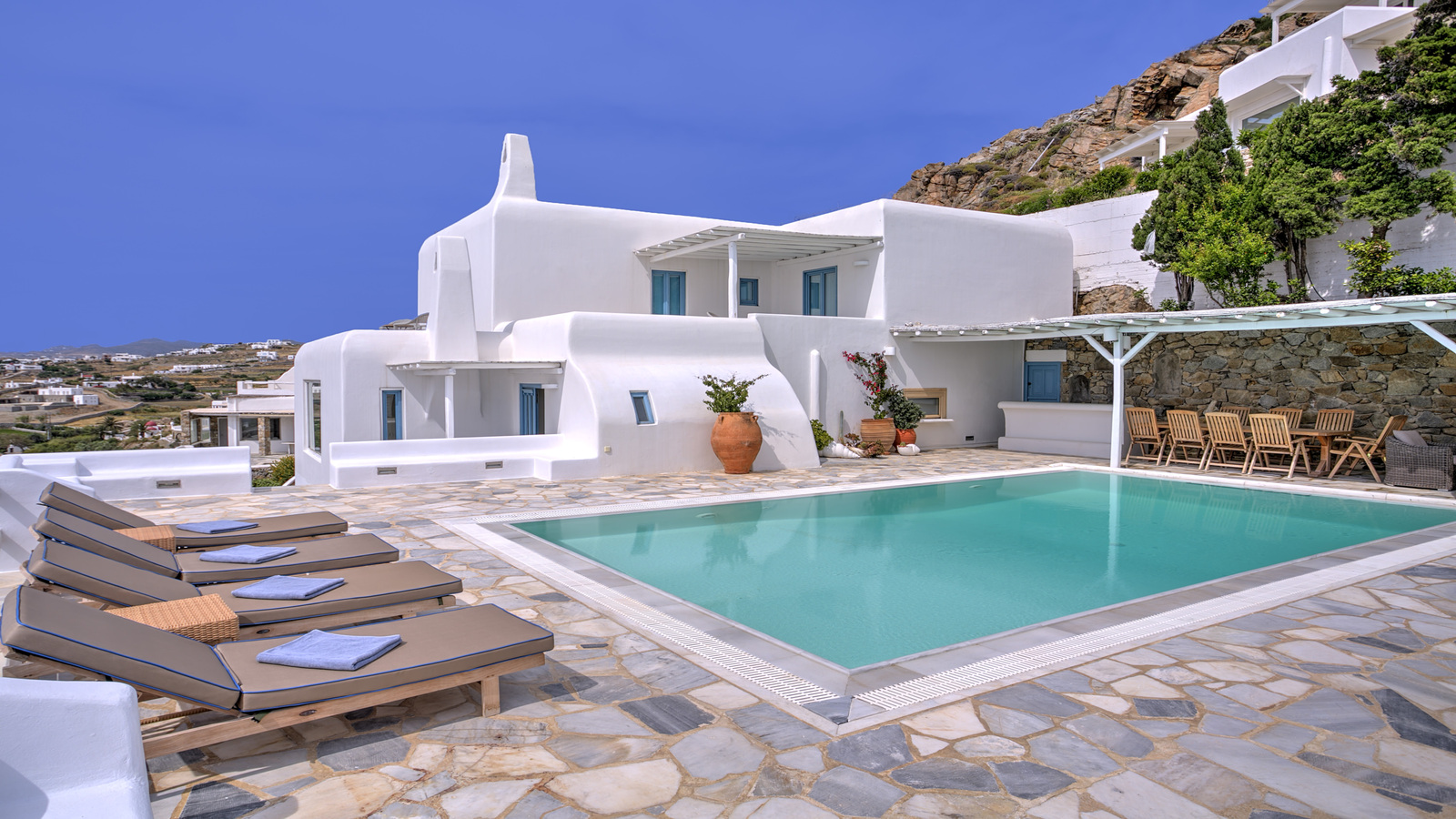 It's goodbye terracotta tiles and dated furnishings, hello minimalist cool. If you want to avoid steep steps, of which there are many, plump for connecting rooms rather than the villas at the top of the hill. The groovy little spa has a host of Ila treatments.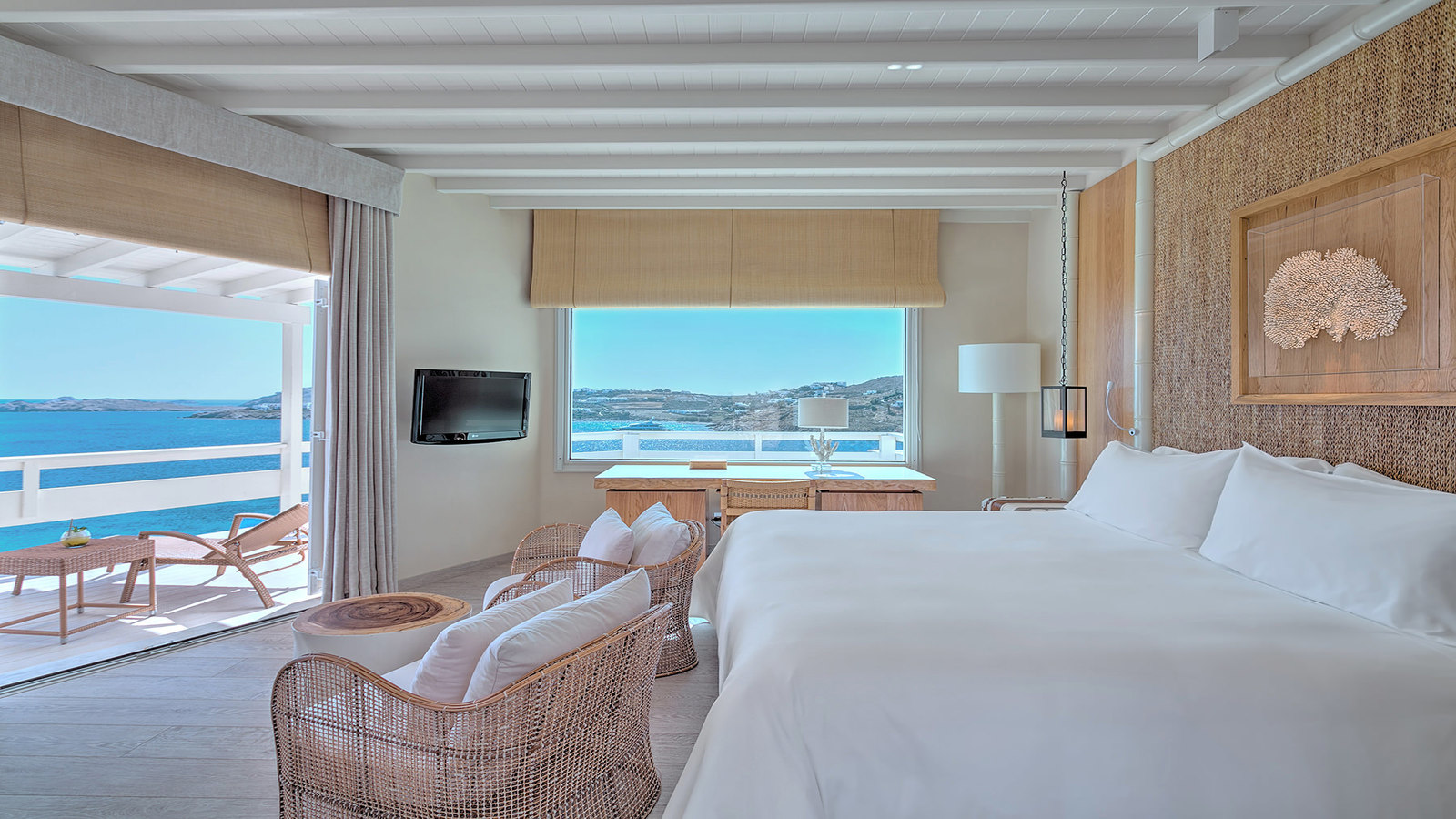 And as night falls, the BayView restaurant does all it can to make parents feel cool again, with front-row seats looking over the Aegean Sea and a resident DJ. You may not be dancing till dawn, but you've still made it to Mykonos.
BOOK IT Carrier (+161 492 1357; www.carrier.co.uk) offers seven nights from £3,850, based on two adults and two children sharing a suite, including breakfast, flights and transfers
SANTORINI
Best for: Honeymooners and first-timers
Cooing American and Japanese honeymooners line up to take selfies as the sun sinks behind Santorini's flooded volcanic crater. That view may be a romantic cliché, but it still takes your breath away. A volcanic explosion blew out Santorini's heart 3,500 years ago, leaving black-sand beaches, vertiginous cliffs in psychedelic hues, and swirling rumours about Atlantis in its wake.
The breathting view from the incredible & stylish Cavo Tagoo Santorini
The eruption also preserved the ancient city of AKROTIRI under layers of ash, and created fertile ground for exceptional Assyrtiko grapes and Vinsanto wines.
Apart from a boat trip to the smouldering crater of NEA KAMENI and hot springs at PALIA KAMENI, there's not much to do but gaze at the mesmerising views from your suite, dangling on the edge of the caldera.
The breathtaking view from Grace Hotel, Santorini
The best hotels are concentrated in OIA, but the inland village of PYRGOS is up-and-coming. Go for a twilight Bellini at Franco's then dinner at SELENE, a pioneer of new Cycladic cuisine.
Stay
Trendier pretenders come and go, but Perivolas is still the most stylish place to stay. If you have cash to splash, Perivolas Hideaway is the ultimate waterfront villa. I also like Grace Hotel with its unique unlimited pool and relaxing atmoshere.
Besides,  Cavo Tagoo Santorini  is really a certain place to be, where the views are Breathtaking from any side, the  staff is excellent and  the amazing minimal design promises relax and serenity.
Book Hotels & Villas in Santorini here
SYMI
Best for: Castaway coves and a picture-perfect port
Little Symi has the prettiest port in Greece. As you round the headland, neoclassical mansions in every shade of apricot and peach rise like a mirage from the sea. Built by 19th-century sponge and spice merchants, the whole town is now a national monument. You need strong legs to explore – it's about 500 steps up to the crumbling acropolis – but you won't need a car.
The only proper road peters out at PANORMITIS MONASTERY, a major pilgrimage site. Ravishing beaches such as AYIOS YORGOS DISALONAS (backed by monumental cliffs) and MARATHOUNDA (where goats will try to filch your picnic) are only accessible by boat or on foot. In the rugged hinterland, more than 100 monasteries are hidden among the pine and cypress forests.
With its laid-back glamour, luminous sea and almost tropical microclimate, Symi is a hit with French and Italian yachties. You'll find them eating flash-fried baby shrimp, a local specialty, at THOLOS, a sensational taverna where the harbour views almost steal the show.
Stay
The Old Markets is the only smart hotel, but there are just five rooms so be quick and book one. Serendipity rents a handful of outstanding villas.
CRETE
Best for: Antiquities, active adventures and sunshine all year round
Crete  is the largest and most populous of the Greek islands, 88th-largest island in the world and the fifth-largest island in the Mediterranean Sea, after Sicily, Sardinia, Cyprus, and Corsica. Crete and a number of surrounding islands and islets constitute the region of Crete (Greek: Περιφέρεια Κρήτης), one of the 13 top-level administrative units of Greece. The capital and the largest city is Heraklion. As of 2011, the region had a population of 623,065.
Crete forms a significant part of the economy and cultural heritage of Greece, while retaining its own local cultural traits (such as its own poetry and music). It was once the centre of the Minoan civilization (c. 2700–1420 BC), which is currently regarded as the earliest recorded civilization in Europe.
Balos
Crete is mountainous, and its character is defined by a high mountain range crossing from west to east, formed by three different groups of mountains:
The White Mountains or Lefka Ori 2,452 m (8,045 ft)
The Idi Range (Psiloritis ) 2,456 m (8,058 ft)
Kedros 1,777 m (5,830 ft)
The Dikti Mountains 2,148 m (7,047 ft)
Thripti 1,489 m (4,885 ft)
These mountains lavished Crete with valleys, such as Amari valley, fertile plateaus, such as Lasithi plateau, Omalos and Nidha; caves, such as Gourgouthakas, Diktaion, and Idaion (the birthplace of the ancient Greek god Zeus); and a number of gorges.
Gorges, rivers and lakes
The island has a number of gorges, such as the Samariá Gorge, Imbros Gorge, Kourtaliotiko Gorge, Ha Gorge, Platania gorge, the Gorge of the Dead (at Kato Zakros, Sitia) and Richtis Gorge and (Richtis) waterfall at Exo Mouliana in Sitia.
The rivers of Crete include the Ieropotamos River, the Koiliaris, the Anapodiaris, the Almiros, the Giofyros, and Megas Potamos. There are only two freshwater lakes: Lake Kournas and Lake Agia, which are both in Chania regional unit. Lake Voulismeni at the coast, at Aghios Nikolaos, was formerly a freshwater lake but is now connected to the sea, in Lasithi. Lakes that were created by dams also exist in Crete. There are three: the lake of Aposelemis dam, the lake of Potamos dam, and the lake of Mpramiana dam.
Climate
With the exception of ELOUNDA – a pocket of bling popular with oligarchs – the north-east coast is scarred by over-development. Instead head south, where there are miles of empty sand dunes, sprinkled with  SIMPLE yoga retreats such as YOGA ROCKS at TRIOPETRA and YOGA PLUS  at AGIOS PAVLOS. Or take a back-to-nature break with WILD FITNESS  at MILIA, a 17th-centruy hamlet powered entirely by solar energy.
Paleochora, Chania
Time slows almost to a standstill in the mountain villages, where locals with formidable whiskers welcome you with shots of raki (Cretan grappa) for breakfast and celebrate saints' days with a volley of gunshots. Even the road signs are peppered with bullet holes.
Falaserna Beach, Chania
Transport 
The island has three significant airports, Nikos Kazantzakis at Heraklion, the Daskalogiannis airport at Chania and a smaller one in Sitia. The first two serve international routes, acting as the main gateways to the island for travellers.
The island is well served by ferries, mostly from Athens, by ferry companies such as Minoan Lines and ANEK Lines.
Although the road network leads almost everywhere, there is a lack of modern highways, although this is gradually changing with the completion of the northern coastal spine highway.
Archaeological sites and museums
There is a large number of archaeological sites which include the Minoan sites of Knossos, Malia (not to be confused with the town of the same name), Petras, and Phaistos, the classical site of Gortys, and the diverse archaeology of the island of Koufonisi which includes Minoan, Roman, and World War II ruins. The latter, however, has restricted access for the last few years due to conservation concerns so it is best to check before heading to a port.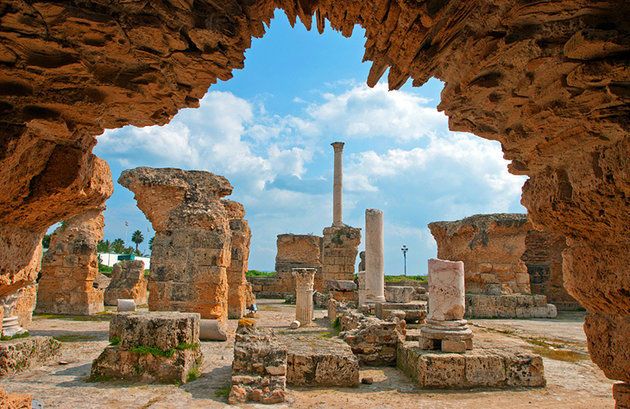 There are a number of museums throughout Crete. The Heraklion Archaeological Museum displays most of the archaeological finds of the Minoan era and was reopened in 2014.
Stay
A 300-year-old hamlet surrounded by olive groves, Kapsaliana Village Hotel exudes peaceful authenticity. On a sandy bay just beyond Chania, Ammos Hotel smartly combines Scandi chic with a child-friendly vibe.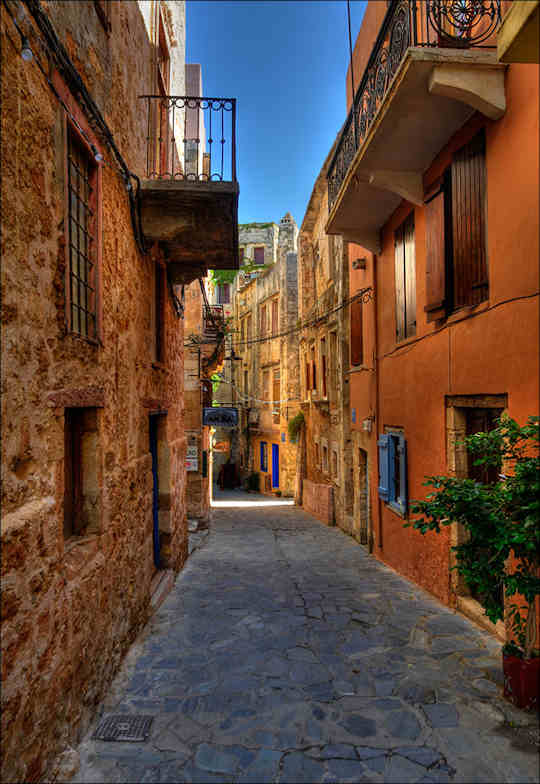 Chania, Old Town
Elounda's finest hotels offer VIP services, luxurious rooms and suites with exclusive view and exclusive deals for conferences, honeymoons and more.  Guests can choose from several luxurious resort experiences including Beach and Bay, Domes, Blue Palace and Daios Cove.
Amirandes
Amirandes is an exclusive beachside resort that epitomizes Crete's most inspiring features. It is known for its beautiful architecture, warm hospitality, excellent cuisine and stunning land and seascapes.
Just 20 minutes from Heraklion Airport, the Resort also offers good sea links and is just a short drive from attractions including the Palace of Knossos and Crete Golf Club.
Creta Palace
Styled after the sprawling palaces of the Minoan kings and Venetian nobles who once ruled Crete, Creta Palace introduces guests to the easy elegance of true European luxe including olive trees, tropical palms, brilliant blue skies and sparkling teal waters. Fragrant gardens lapped by azure waters and palm-fringed lagoons swirling past natural stone terraces are the hallmarks of this relaxing yet sophisticated beachfront resort that offers the highest standards of Mediterranean luxury and refinement.

Crete is one of the most popular holiday destinations in Greece. Fifteen percent of all arrivals in Greece come through the city of Heraklion (port and airport), while charter journeys to Heraklion last year made up 20% of all charter flights in Greece.  Overall, more than two million tourists visited Crete last year, 2016.
Today, the island's tourism infrastructure caters to all tastes, including a very wide range of accommodation; the island's facilities take in large luxury hotels with their complete facilities, swimming pools, sports and recreation, smaller family-owned apartments, camping facilities and others. Visitors reach the island via two international airports in Heraklion and Chania and a smaller airport in Sitia (international charter and domestic flights starting May 2012) nor by boat to the main ports of Heraklion, Chania, Rethimno, Agios Nikolaos and Sitia.
Popular tourist attractions include the archaeological sites of the Minoan civilisation, the Venetian old city and port of Chania, the Venetian castle at Rethymno, the gorge of Samaria, the islands of Chrysi, Elafonisi, Gramvousa, and Spinalonga and the Palm Beach of Vai, which is the largest natural palm forest in Europe.
NAXOS
Best for: Endless sandy beaches & Amazing Homemade Food
Naxiots once made considerable fortunes exporting potatoes, cheese, marble and emery. Locals bequeathed undesirable seaside plots – useless for farming – to their laziest offspring. When tourists cottoned on to the island's scores of fabulous beaches, these wastrels found themselves sitting on gold mines.
The west coast of Naxos is fringed with mile upon mile of powdery sands. AGIOS PROKOPIOS and AGIA ANNAdelight toddlers and teenagers alike with their shallow waters and beach bars.
As you head south, the beaches get wilder: PLAKA, where you can gallop across the dunes on horseback, MIKRI VIGLA for windsurfing and kitesurfing, and crystal-clear KASTRAKI.
Should you tire of frolicking on the shore, three supersized kouros statues are hidden in the hills and there are dozens of drowsy villages to explore.
Try kitron, the local citron liqueur, at the VALLINDRAS DISTILLERY in HALKI or sample homemade wine and arseniko cheese under the plane trees in ANO POTAMIA VILLAGE. No wonder Herodotus described Naxos as 'the happiest of islands'
Stay
Corona Borealis is a seven-suite retreat with a pool poised for sunset and a private cove where you can have supper under the stars.
TINOS
Best for: Traditional villages and knockout tavernas
In antiquity, Tinos was also known as Ophiussa (from ophis, Greek for snake) and Hydroessa (from hydor, Greek for water). The closest islands are Andros, Delos, and Mykonos. It has a land area of 194.464 square kilometres (75.083 sq mi) and a 2011 census population of 8,636 inhabitants.
Tinos has more than 50 villages, each vying to be fairest of them all. In PYRGOS, famous for its marble craftsmen, sculpted birds and flowers decorate every doorway. In VOLAX, basket weavers squat outside cottages carved from giant boulders, seemingly flung from the heavens by Zeus in a fit of pique. There's even a village called love, AGAPI, where you can tuck into wild-fennel fritters at the only taverna.
Tinos takes its food culture seriously: there are artichoke, caper and honey festivals. Greeks travel for days to eat cuttlefish risotto at THALASSAKI, served on the jetty in ISTERNIA BAY, then watch dusk bleed into the horizon from EXOMERIA BAR.
Tinos is only 15 minutes from Mykonos, so it's a wonder it isn't overrun with tourists. The harbour is swarmed on 15 August, however, when Orthodox pilgrims flock here to kiss the icons at PANAGIA EVANGELISTRIA MONASTERY, one of the holiest sites in Greece.
Tinos is famous amongst Greeks for the Church of Panagia Evangelistria, its 80 or so windmills,  about 1000 artistic dovecotes, 50 active villages and its Venetian fortifications at the mountain,  Exomvourgo. On Tinos, both Greek Orthodox and Roman Catholic populations co-exist, and the island is also well known for its famous sculptors and painters, such as Nikolaos Gysis, Yannoulis Chalepas and Nikiforos Lytras.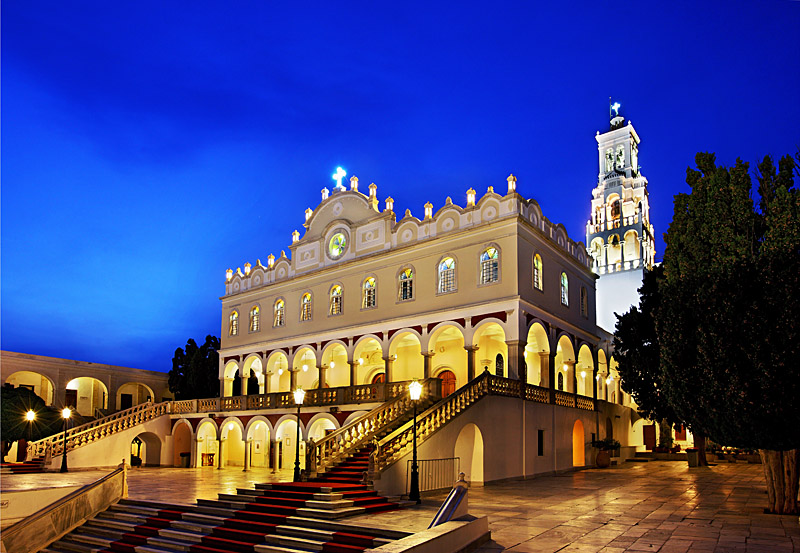 Otherwise, the island is miraculously untouched. Solitary chapels and whimsical dovecotes stud thyme-scented hills, dropping to sandy bays whipped by the meltemi wind. There's a nascent surfer scene on KOLIBITHRA BEACH.
The most impressive outdoor pool worldwide is located in a modern residence in Tinos, in  Mirage.
The island is located near the geographical center of the Cyclades island complex, and because of the Panagia Evangelistria church, with its reputedly miraculous icon of Virgin Mary that it holds, Tinos is also the center of a yearly pilgrimage that takes place on the date of the Dormition of the Virgin Mary (15 August, "Dekapentavgoustos" in Greek). This is perhaps the most notable and still active yearly pilgrimage in the region of the eastern Mediterranean. Many pilgrims make their way the 800 metres (2,600 feet) from the ferry wharf to the church on their hands and knees as sign of devotion.
Following the capture of Constantinople by the Fourth Crusade, Tinos was one of several islands ruled by private Venetian citizens and belonged to Andrea Ghisi, whose heirs held it until 1390 when the last member of the family branch bequeathed both Tinos and Mykonos to Venice.  It was ruled by Venice until 1715, when Tinos was captured by the Ottoman Empire (see Ottoman–Venetian War), and became known as İstendil. The Ottomans held Tinos until 1821 when the inhabitants joined in the Greek War of Independence. 
Tinos has a varied landscape. From the shores of Panormos and Kolimbithra on the North Shore to Kionia, Agios Yannis O Portos, and Agios Sostis on the Southern Shore, Tinos has many beaches. Tsiknias is the highest mountain on the island at 750 metres (2,460 feet) and hides the village of Livada. The mountain of Exobourgo is quite distinct, and unlike its more rounded Cycladic neighbors, has a jagged appearance that would be more at home in the Alps. Between Tsiknias and Exobourgo lies the fruitful plain of Falatados. This area is unique on the island as its relatively flat terrain (albeit with an elevation of about 300 metres (980 feet)) is rare on the island. This made it a strong candidate for a proposed airport on the island. The Meltemi winds and concerns of local villagers of the towns of Falatados, and Steni have all but halted the project.
The area around Volax is a surreal and very unusual landscape with giant boulders some the size of multi-storey buildings. The village of Volax lies at the center of this landscape. To the west, the mountains surrounding Pyrgos are full of some of the most beautiful green marble in Greece.
All around the island of Tinos, the islanders have made the most unusual things out of stone. The hills are all terraced with stone walls and every village is connected to its nearest neighbors by stone walkways set between a parallel set of stone walls.
The island's mineral resources include marble, Verde antico, asbestos and a granite mine near Volax (also known as Volakas).
Stay
Hipaway has villas with real personality, including Loutra house, a masterclass in Cycladic minimalism. For fancier villas, try Five Star Greece.
MILOS, the Untouched Greek Island You've Been Looking For…
The island has a mythological landscape, uncrowded tavern-lined port towns, and the bluest water in the Cyclades.  It is a volcanic Greek island in the Aegean Sea, just north of the Sea of Crete. Milos is the southwesternmost island in the Cyclades group.
The island is famous for the statue of Aphrodite (the "Venus de Milo", now in the Louvre),
and also for statues of the Greek god Asclepius (now in the British Museum), the Poseidon and an archaic Apollo in Athens. Milos is a popular tourist destination during the summer. The Municipality of Milos also includes the uninhabited offshore islands of Antimilos and Akradies. The combined land area is 160.147 square kilometres (61.833 sq mi)  and the 2011 census population was 4,977 inhabitants.
AMONG THE ISLANDS OF THE CYCLADES, even of the world, Milos stands luminously in the history of art. Not because a great artist came from here, or was inspired by it, but rather because of a chance discovery in its soil.
"…The luminous Greek Island of Milos has the best beaches in the Aegean, a fascinating history and superb seafood – and yet it is so often overlooked. All the better for the few who do go there, entirely alone in its turquoise bays.." Conde Nast Traveller
Mandrakia, Milos
On 8 April 1820 an ensign in the French navy and amateur archaeologist named Olivier Voutier went ashore to dig in the vicinity of the island's ancient theatre. He noticed a farmer a few paces away pause in his labours, peer through a gap in an old wall, register an expression of surprise, and then turn away. Voutier was curious. He went to the wall to have a look. In the recess within he saw a shape, the naked torso of a woman, carved in marble, lying on her side. He paid the farmer to help him dig it out. Torso was followed by draped legs, a wedge from the hip, plinth, foot and other fragments. Wedge and torso were stacked on the legs and in the afternoon light what would become known as the Venus de Milo stood before Ensign Voutier.
Once displayed, the multitudes thronged to see her, as they still do. Whatever her age, she paid back for the attention given her with her mystique, serenity, timelessness and ease with her own beauty. The life force in the Venus's cocked leg, her gaze and slight twist of torso as the robe slips from her hip make her godliness proximate, earthy, even human. She's been salt cellar, lamp, promoter of Mercedes-Benz cars and subject of a song by Chuck Berry. The artists Rodin, Dalí, Max Ernst and Jim Dine have all remade the Venus according to their own visions. When she travelled to Japan, 100,000 people went to the harbour to greet her.
Many of those involved in the struggle to get the Venus off the island and on her way to Paris were scornful of the place that had been her home. It was a barbaric outpost, a source of resentment. A Texan named Gregory Curtis who wrote a book about the Venus declared that when tourists leave Milos, it 'returns to its unlovely self – dull, remote, harsh'. In the travel marketplace it tends to be overlooked in favour of its more glamorous neighbours: dramatic Santorini, gastronomical Sifnos, hedonistic Mykonos, the chic and diminutive Folegandros.
How the gouged, dusty, battered figure, arm-, foot- and noseless, became the entrancing star of the Louvre is a tale of disputatious and counterfeit scholarship, lies, cover-ups, vanity and restorations both inept and artful. Above all it is a tale of one-upmanship among imperial nations, for not long before the Venus arrived in Paris, the British government acquired sculptures taken from the Parthenon by Lord Elgin, who had refused a higher bid from Napoleon, and installed them in the British Museum, making it the pre-eminent institution of its kind in the world. The directors of the Louvre were piqued. The Venus would be an eloquent riposte, but there was a problem. It would only be important enough if she was from the Classical Age and evidence suggested that she dated from the later, more prosaic Hellenistic period. Patriotic scholars were deployed. It was as if the empire depended upon it. The scholars delivered the verdict expected of them, the Germans were suspicious, war was waged in academic journals, evidence was destroyed, veils drawn and ambiguity allowed to prevail.
There are about 70 beaches on Milos Island. Hivadolimni Beach is the longest at about 1 kilometre (0.62 mi). The rest of the beaches are starting from (North): Sarakiniko Beach, Papafragas, Kapros, Pachena, Alogomantra, Konstantinos, Mitakas, Mantrakia, Firopotamos, Nerodafni, Lakida, Plathiena, Fourkovouni, Areti, Pollonia, Gourado and Filakopi. (South): Firiplaka, Paliochori, Provatas, Tsigrado, Agia Kyriaki, Psaravolada, Kleftiko, Gerontas, Gerakas, Agios Sostis, Mouchlioti, Katergo, Spathi, Firligos, Pialothiafes, Kalamos, Krotiraki, Psathi, Svoronou and Sakelari.
(West): Agios Ioannis, Cave of Sikia, Agathia, Triades and Ammoudaraki. (East): Voudia, Thalassa, Paliorema, Tria Pagidia and Thiafes. (In the Bay Area): Hivadolimni, Lagada, Papikinou, Fatourena, Klima, Skinopi and Patrikia. The North and South and bay beaches are tourist attractions. The east beaches are very quiet, and those to the west are also quiet beaches.
In Milos they are in rock-backed villages around the cape on the eastern side of the immense harbour – at Klima, Areti, Fourkovouni, Firopotamos and Mandrakia, whose beauty is incredible.
Milos's colours and wealth and the shaping of its history derive from its having been flung out of the sea by volcanoes that blew around two million years ago, the principal crater forming one of the largest harbours in the Aegean at Adamas ('diamond' in Greek). Hot springs praised by Hippocrates still bubble up around the island. Obsidian was its first star mineral, the traders at Phylacopi selling it to the Minoans for weapons and razors. Pliny wrote of alum that rivalled Egypt's and declared that it had the most abundant supply of sulphur in the known world. At Theorychia you can see the haunting remains of a sulphur mine clinging to a cliff striped in yellow, rusting wagons still on the tracks, the water crystal clear, the beach stones like a painter's palette with the colours running together, an odour of rotten eggs in the air. An 11,000-year-old mining industry still thrives through the collection of kaolin, baryte, pozzolan and bentonite. All this geological munificence has produced crystals, solidified volcanic ash and streaks of oxidised metals that make you feel you are in a place that has been dreamed up rather than naturally evolved.
Getting There
In high season, there are regular flights from Athens on Olympic Air, but these are small planes that have to be booked in advance. Most people still arrive by boat from Athens (four-and-a-half hours on the Speedrunner) or on a Seajet/SuperJet boat from Santorini.
The Best Time to Go
The days are long in June and early July and everything's open (seasonal businesses operate from April to October).
Where to Sleep
Most small hotels (and the best restaurants) are in Pollonia, including the new Milos Breeze, which has an infinity pool overlooking the town, and the popular Salt Suites. Design-conscious villas are popping up too, including three (and soon three more) at Skinopi Lodge, between the port of Adamantas (a.k.a. Adamas) and Trypiti, and Five Star Greece's luxe compound, Voronoi's Corrals, at the end of a winding road on a remote cliff above the southern coast.
Eating Out
Pollonia's beach is lined with restaurants, including Armyra—in what was once the owner's grandfather's house—which specializes in seafood mezedes like fried baby shrimp and whatever is freshly caught. After evening drinks at Outopia, in Plaka, cross the cobblestones to Archontoula, a classic, no-frills taverna with traditional dishes from stuffed squid to rabbit stew. The waterside taverna MEDOUSA  at  Mandrakia (+30 2287 023670) for late lunch or sunset dinner , was memorable as much for the setting as the food.It is located opposite the church and above the syrmata in the village of Mandrakia, known for its grilled sardines, octopus (you'll spot it drying in the sun), and salads.    NAVAGIO in Adamas (+30 2287 024124), where chef Konstantines Papaioannou conjured a succession of brilliant cold seafood dishes after his oven broke; and above all, ARMENAKI in Pollonia (+30 2287 041061), where it's best to allow chef/owner/sommelier Adonis Mavroiannis choose for you.
Locals (and the emir of Qatar) love O Xamos, on the shore outside of Adamantas, for its old-school menu, including chickpea casserole and piglet in parchment. You'll probably keep going back to Ergina, in Trypiti, where the owner serves his grandma's traditional recipes. The short sail to the satellite island of Kimolos is worth it for a meal by the water at To Kyma.
FOLEGANDROS
With its beautiful main town, small hotels, picturesque houses and secluded coves, Folégandros offers the ideal Greek hideaway. However, as is so often the way, this fantastic island in the southern Cyclades is not the easiest to reach. Remote and rocky, it has no airport, no package tours and no chain hotels.
It is a small barren rocky island with an area of surface area is about 32 km2 E of Milos and S of Serifos. The used to be one of the most isolated islands in Greece where political exiles were sent, as recently as during the Junta of the Colonels (1967-72). Also, its town Chora has some of the best examples of Cycladic architecture. Unfortunately, the island has been "discovered" and its 600 hundred inhabitants multiply many times over every summer with tourists, complete with bars, discos etc. Still, it does have wonderful architecture and one can take many nice walks in its stark terrain.
Folegandros gets its name either from the son of King Minos of Crete or from the Phoenician word Phelekguduri meaning rock-built.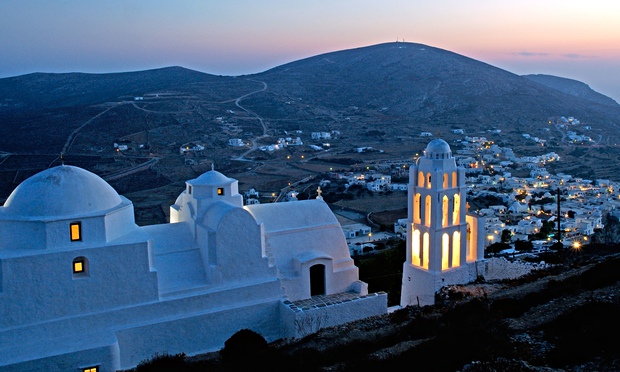 The main point of interest is Chora with its fantastic architecture. In Chora there is a small Folkloric Museum. Near Chora there is the church of Panayia which is built over a sheer cliff right over the ancient temple to Artemis. Legend has it that the church was looted by pirates who stole the icon of the Virgin. As the were getting away their boat capsized and they were drowned.
The icon returned to the foot of the cliff. Every year the islander take the icon for a tour of the island to commemorate the miracle. Under the church there is a large grotto Chrissospilia (Golden cave) with stalactites and ancient inscriptions. Again legend has it that Barbarossa's treasure is buried within the grotto but no one has ever found it.
WHERE TO STAY
ANATOLI HOTEL

Ano Meria, Folegandros(+30 22860 41069)

Six well-priced rooms on a hillside in Ano Meria with stunning views of Chora and the sea.
ANEMOMILOS APARTMENTS

Chora, Folegandros(+30 22860 41309)

Teetering on the abyss on the edge of Chora, these bright and airy studios aren't fancy, but the location is unbeatable. It's worth paying the extra for the Blue Studios: they have the best views and biggest terraces. Relax with apricot daiquiris by the pool.
FATA MORGANA

Chora, Folegandros(+30 22860 41237)

An effusive welcome and spectacular sea views compensate for the slightly kitsch interiors. Exuberant owner Fani Anastasiadi also rents rooms in her grandmother's house across the street.
The Church of Panagia , above the Town.
THEMONIES

Chora, Folegandros(+30 22860 41517)

A cluster of 19th-century stone houses on a hillside overlooking Chora, this is a secluded hideaway close to the action, with quietly stylish interiors in earthy tones, exposed stone walls and beamed ceilings.

ANEMI

Karavostasis, Folegandros(+30 21072 54871)

Quirky photographs of Folegandros inject a dash of colour into the interiors of these whitewashed bungalows. Chef Themis Papadopoulos serves contemporary Cycladic cuisine at the poolside restaurant. The only drawback to this swish 44-room resort is the location: a barren hillside overlooking the port.
SIFNOS
Best for: Big, fat Greek feasts
Sifnos owes its foodie reputation to its most famous descendant, Nicholas Tselementes, who wrote the first Greek cookbook in 1910. Forget souvlaki and moussaka: here, chickpea croquettes and stewed capers are taverna staples.
The island is peppered with potteries that produce the earthenware casseroles used for revitháda (baked chickpeas) and mastello (lamb with red wine and dill). Traditional dishes are slow-roasted in a wood-fired oven at TO MERAKI TOU MANOLI, a local institution on sheltered VATHY BAY.
In postcard-pretty ARTEMONAS, all roads lead to THEODOROU, purveyors of nougat wafers and almond sweets since 1933. You can eat in your bikini at OMEGA 3, where locally foraged and fished ingredients are given an exotic twist: baby-calamari tempura, crayfish, saffron, and ouzo risotto. Lobsters are plucked straight from the sea at HERONISSOS, then served with spaghetti on the jetty. It's just the right balance of low-key luxury and unspoiled authenticity. Rather like Sifnos itself.
Stay
With its cliff-top infinity pool and soft-focus sunsets, Verina Astra is effortlessly sexy. Verina Suites on Platis Gialos beach is more family-friendly.
ASTYPALEA
Best for: Escaping the crowds
A throwback to a gentler, slower, more elemental way of life, Astypalea is surprisingly easy to get to (daily one-hour flights from Athens). Every gap in the burnished hills frames a different view of HORA, cascading from the Venetian castle to seaside SKALA. The scent of saffron biscuits wafts through the whitewashed lanes. Tucked beneath the battlements, CASTRO BAR has a magical terrace that seems to float above the archipelago.
The nearest beach is LIVADI, a sort-of-resort surrounded by citrus orchards. The rest of the island is stark and wild. Treacherous tracks hurtle down to shingle bays such as VATSES, with a rocking beach bar, and KAMINAKIA, where Linda's farm-to-table taverna serves the best roast goat in the Dodecanese.
If you really want to be alone, rent a motorboat from MALTEZANA, an old-time fishing village, and putter to   KOUTSOMITI and KOUNOUPES, tiny islands connected by a double-sided beach. At VATHY, a lagoon where erotic graffiti was etched into the rocks 2,500 years ago, the only taverna is called GALINI (Peace). Which sums up Astypalea perfectly.
Stay
Well-appointed Melograno Villas or Oltre Mare, simple maisonettes with endless blue views.
Best for: Stark mystique and show-stopping villas
Patmos has an indefinable je ne sais quoi – an otherworldly quality that radiates from its crowning glory, the medieval monastery of St John. This turreted fortress, bursting with Byzantine relics, is named after John the Divine, who conjured up his apocalyptic revelations in a cave nearby.
Pure-white CHORA, a World Heritage Site, is where A-listers and fashion editors stay. High walls and heavy doors conceal magnificent mansions dating back to the 16th century.
The almighty church has kept nightlife in check. If you must see and be seen, head to ASTIVI for watermelon Daiquiris or GEORGE'S PLACE on KAMBOS BEACH, where the full-moon parties last until sunrise. Beach life is generally languid and low-key; PSILI AMMOS and LIVADI GERANOUare our favourite hideouts. Dinner reservations are essential at BENETOS, for Med-Asian fusion on an organic farm, and LAMBI for grilled fish on a purple pebble beach.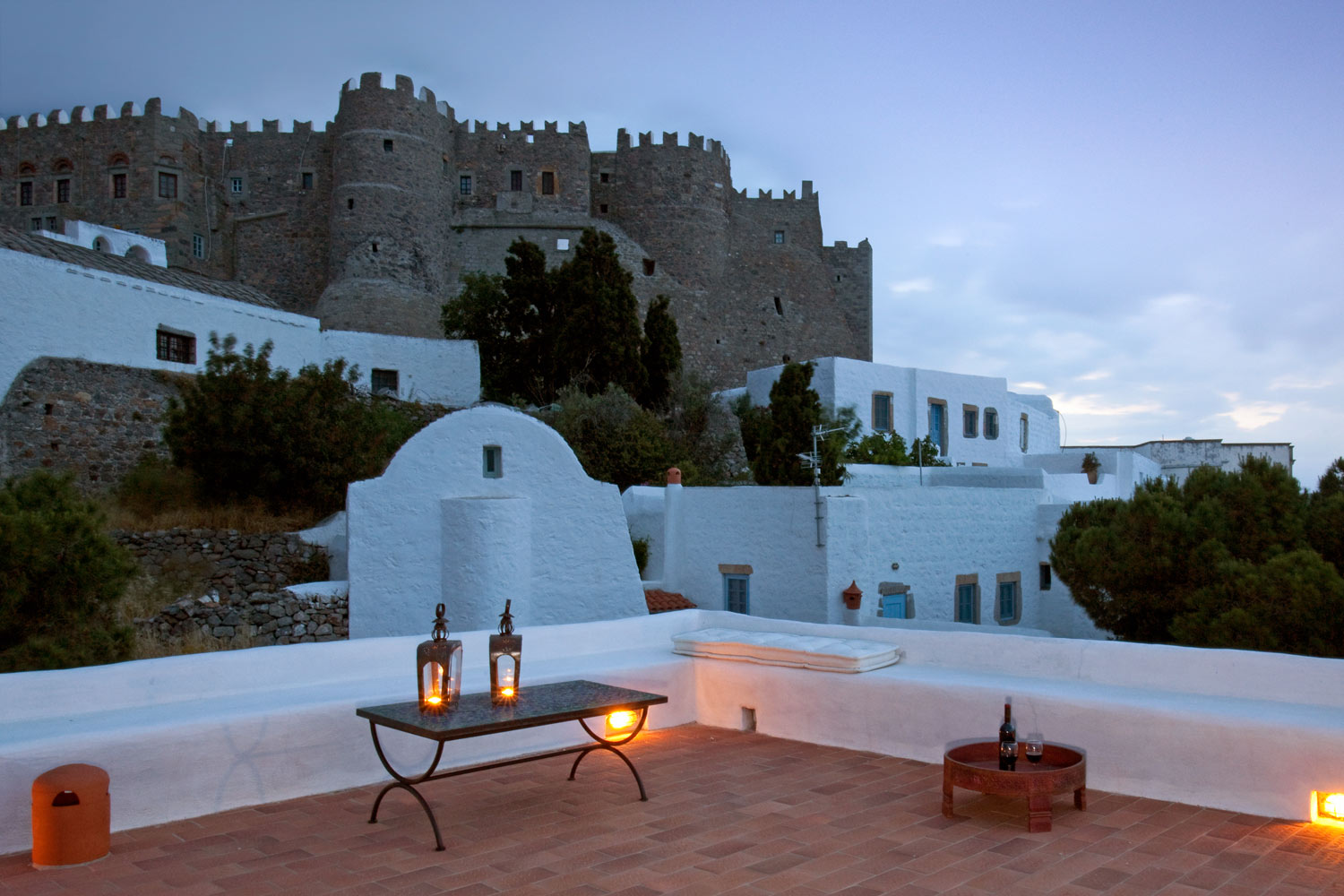 STAY
Archontariki is a gorgeous, five-suite hideaway in Chora. If money is no object and privacy is paramount, Serendipity has the most exclusive villas.
Main Source :
Big Thanks !