Melania Trump, the 45th First Lady of the United States of America , seems to be a  really Classy & Fabulous woman, with strong characterists of a Powerfull , super lady who will leave her own  legacy of an unparalled style in America and wordlwide.  At the inauguration ceremony , some hours ago she spotted  in a custom ensemble from Ralph Lauren, showing great pride at the country which honnored her family supremely.
That was not the first time.  She wore Lauren's black pussybow  jumpsuit to the last debate and then an asymmetric version of the look in white on election night.
She looked more than amazing in her powder blue skirt suit, matching gloves, neat clutch, and stiletto shoes, which all of them recalled the elegance of Jacqueline Kennedy at the inauguration of John F. Kennedy in 1961. The shape of the suit was certainly a nod to '60s sophistication: The cocoon-like jacket with 3/4 sleeves and the to-the-knee hemline, paid tribute to Oleg Cassini, a Kennedy favorite.
Melania Trump (born Melanija Knavs;  April 26, 1970; germanized to Melania Knauss  is a Slovene-American former model and the First Lady of the United States.  She is married to American businessman and 45th President of the United States, Donald Trump.
Born in Slovenia, she became a permanent resident of the United States in 2001 and a citizen in 2006. She is the second foreign-born First Lady of the United States, following Louisa Adams in 1825.
Melanija Knavs was born in Novo Mesto in the southeast of the Socialist Republic of Slovenia, part of Yugoslavia, on April 26, 1970.  She is the daughter of Amalija (née Ulčnik) and Viktor Knavs, who managed car and motorcycle dealerships for a state-owned vehicle manufacturer.  Her father was from the nearby town of Radeče.  Her mother came from the village of Raka, and was a patternmaker at the children's clothing manufacturer "Jutranjka" in Sevnica. When later working as a model, she changed her Slavic-sounding last name Knavs to the German-sounding Knauss.
She began modeling at age 5 and first commercials at 16, when she posed for the Slovenian fashion photographer Stane Jerko. At 18, she signed with a modeling agency in Milan, Italy. She was named runner-up in the 1992 Jana Magazine "Look of the Year" contest, held in Ljubljana, which promised its top three contestants an international modeling contract.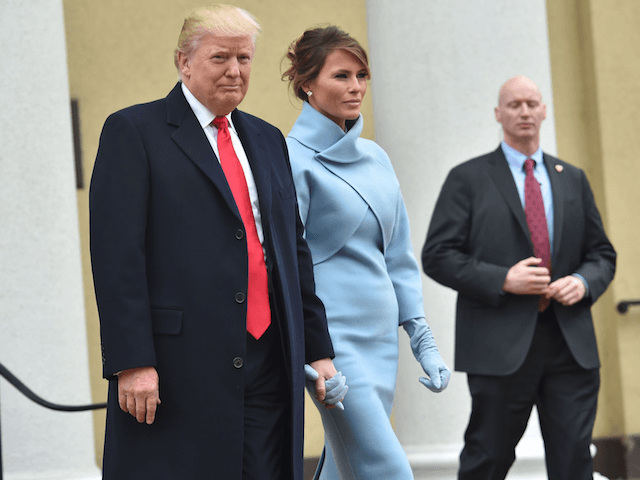 After attending the University of Ljubljana for one year, she modeled for fashion houses in Milan and Paris. She then relocated to New York City in 1996.
After moving to New York City in 1996, Melania met her future husband Donald at a Fashion Week party in New York City in September 1998, while he was still married to, but separated from, Marla Maples;Donald attended the event with another date, Celina Midelfart, and Melania initially refused to give Donald her phone number.  Melania broke off the relationship shortly after it began, but the couple reconciled after a few months. Their relationship gained attention after a 1999 interview on The Howard Stern Show.
In 2000, Melania appeared with Donald while he campaigned for that year's Reform Party presidential nomination.  Their relationship gained additional publicity after the 2004 launch of Donald's business-oriented reality television show, The Apprentice. Donald described their long courtship in 2005: "We literally have never had an argument, forget about the word 'fight' … We just are very compatible. We get along."
After becoming engaged in 2004, Donald and Melania were married in an Anglican service on January 22, 2005, at The Episcopal Church of Bethesda-by-the-Sea in Palm Beach, Florida, followed by a reception in the ballroom at Donald's Mar-a-Lago estate.
The event was attended by celebrities such as Katie Couric, Matt Lauer, Rudy Giuliani, Heidi Klum, Star Jones, P. Diddy, Shaquille O'Neal, Barbara Walters, Conrad Black, Regis Philbin, Simon Cowell, Kelly Ripa, then-Senator Hillary Clinton, and former president Bill Clinton. At the reception, Billy Joel serenaded the crowd with "Just the Way You Are" and supplied new lyrics about Donald to the tune of "The Lady Is a Tramp". The Trumps' wedding ceremony and reception were widely covered by the media. Melania wore a $200,000 dress made by John Galliano of the house of Christian Dior.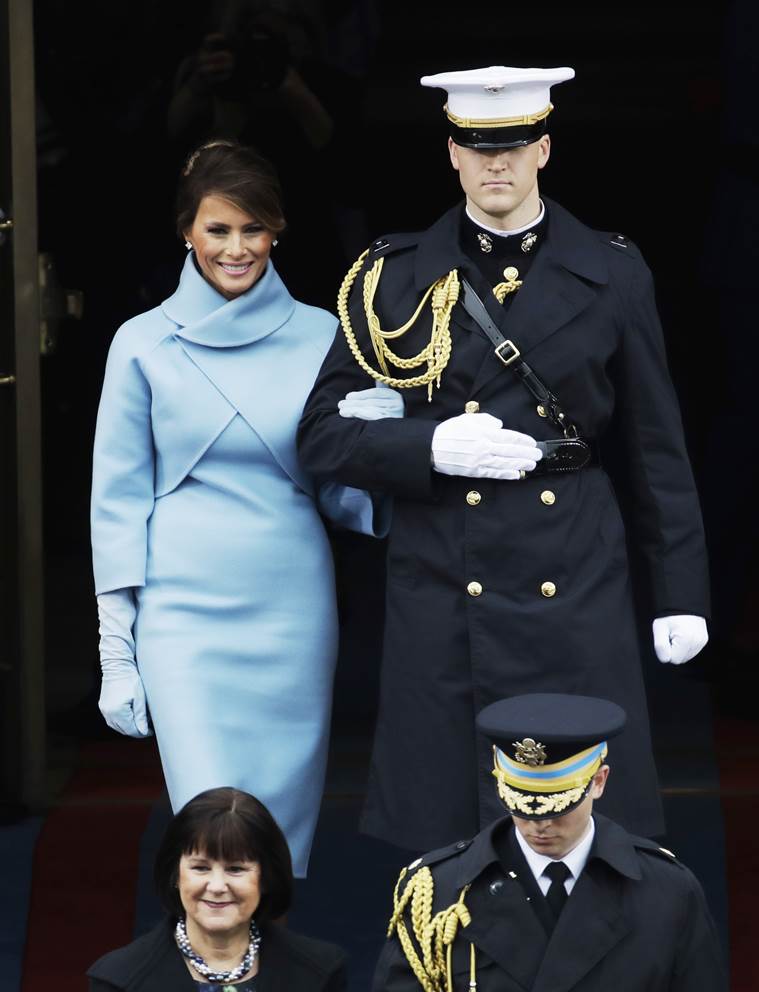 On March 20, 2006, Melania gave birth to Barron William Trump. Melania suggested his middle name, and her husband suggested his first name.As an infant, Barron reportedly occupied his own floor in the Trumps' apartment in Trump Tower in Manhattan, but often slept in a crib in his parents' bedroom. He plays golf with his father and is reported to be fluent in Slovene. He is said to like wearing a suit and tie, and Trump's nickname for him is "Mini-Donald".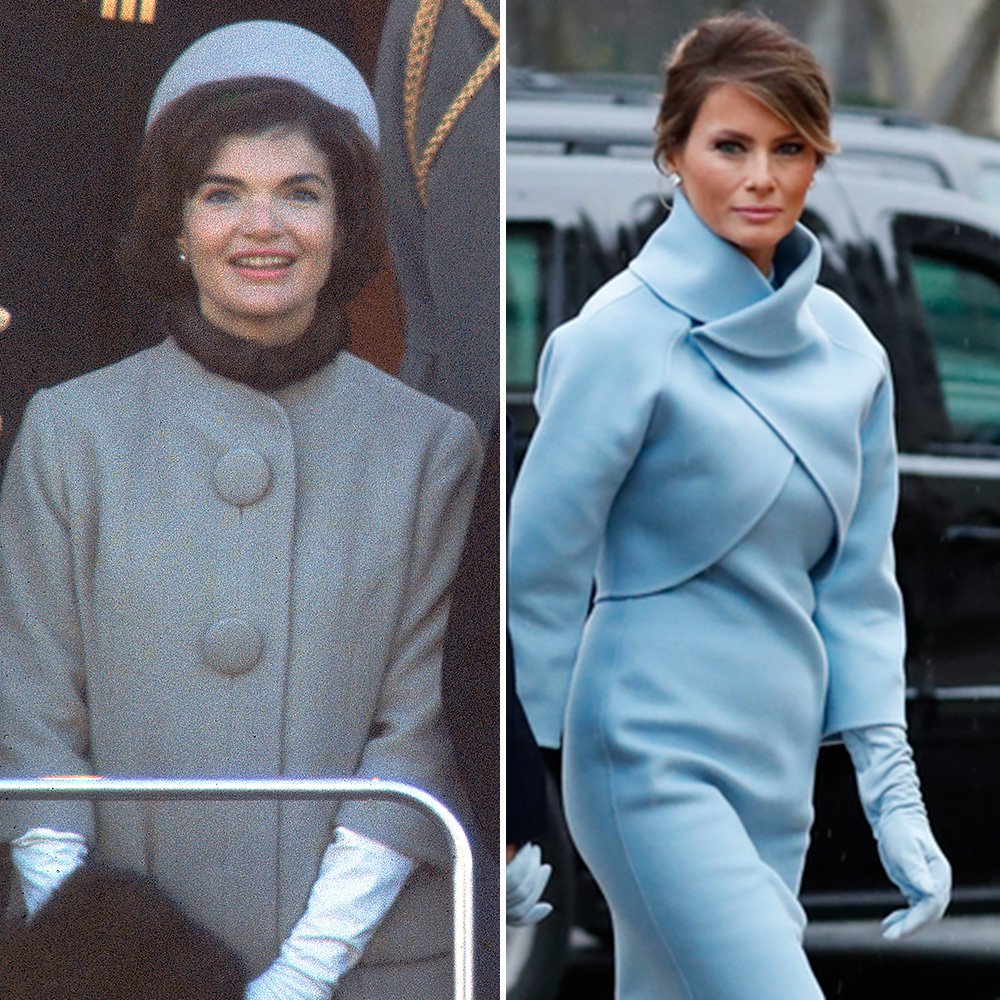 Jacqueline Kennedy at the inauguration of John F. Kennedy in 1961.
Melania Trump, at the inauguration of Donald, John Trump, 20 January 2017.
We wish her all the best with her new duties !
We welcome the Melania Era !
Welcome Melania Trump…!