One of Australia's most spectacular tourist destinations, Hamilton Island is located in the heart of the Great Barrier Reef and Whitsunday Islands.
Part of the Whitsundays, and in the heart of the Great Barrier Reef, Hamilton Island
is an extraordinary and sought-after holiday destinations worldwide. On a holiday to Hamilton Island
, you'll be surrounded by pristine white beaches, and a kaleidoscope of coral and marine life.
Save 35% Off Accommodation at Palm Bungalows, Reef View and Beach Club until 21st May 2018. This is the strongest sale Hamilton Island
  has ever run.
Great Barrier Reef
Situated in the heart of the Great Barrier Reef, Hamilton Island
is the perfect base for exploring everything the reef has to offer.
The Great Barrier Reef is the world's largest coral reef, and home to the most diverse plant and animal life on the planet – including spectacular coral formations, hundreds of species of fish, turtles, manta rays and even visiting dolphins and whales.
Hamilton Island
, in the heart of the reef, is the perfect base for exploring this magnificent part of the world – and offers a whole range of professional, well-organised tours, activities and excursions.
Hill Inlet
A great experience would be the Reefworld Cruise Great Barrier Reef Day Trip to Reef World.
Perfect for families, this day trip includes a visit to the activity-packed Reefworld, where you can snorkel, dive, explore or simply splash around colourful Hardy Reef.
Heart Reef
Experience a scenic cruise through the Whitsunday Islands National Park and enjoy a BBQ picnic lunch on the world famous Whitehaven Beach.
Hamilton Island is a perfect base for exploring the Great Barrier Reef and world-famous Whitehaven Beach.
championship course on its own island. Plus, with six different levels of accommodation to choose from across the island – ranging from plush, couples' suites, to family-friendly apartments and holiday homes, a holiday on Hamilton Island really does offer something for everyone.
Seaplane to Whithaven
Hamilton Island Yacht Club
Inspired by the rich colours and textures of the Whitsundays, the Hamilton Island Yacht Club is located right on the waterfront, and offers sensational views out over Dent Passage, as well as several luxury villas.
With its luxury villas, and bright, contemporary style, the Hamilton Island Yacht Club is an iconic and striking island destination.
It was officially opened by the Premier of Queensland, Anna Bligh, as part of the 2009 Audi Hamilton Island Race Week.
Reef View Hotel Pool
YACHT CLUB VILLAS
Gracefully positioned on the Dent Passage waterfront, the villas are just a short stroll to the iconic Hamilton Island Yacht Club.
Day Spa Experience
For the ultimate indulgence, both island spas are open every day of the week, from 9.00am until 7.00pm
Hamilton Island Yacht Club
It is one of Australia's finest golf courses with RANGE OF OF GOLF ACTIVITIES and
18-hole championship golf course, aquatic driving range, mini-golf and more.
Take a self-drive tour, or hire a golf buggy to go between your accommodation and points of interest across the island.
Hamilton Island Golf Club
Beach House
Beach Club Pool
Pebble Beach House
The Hamilton Island Marina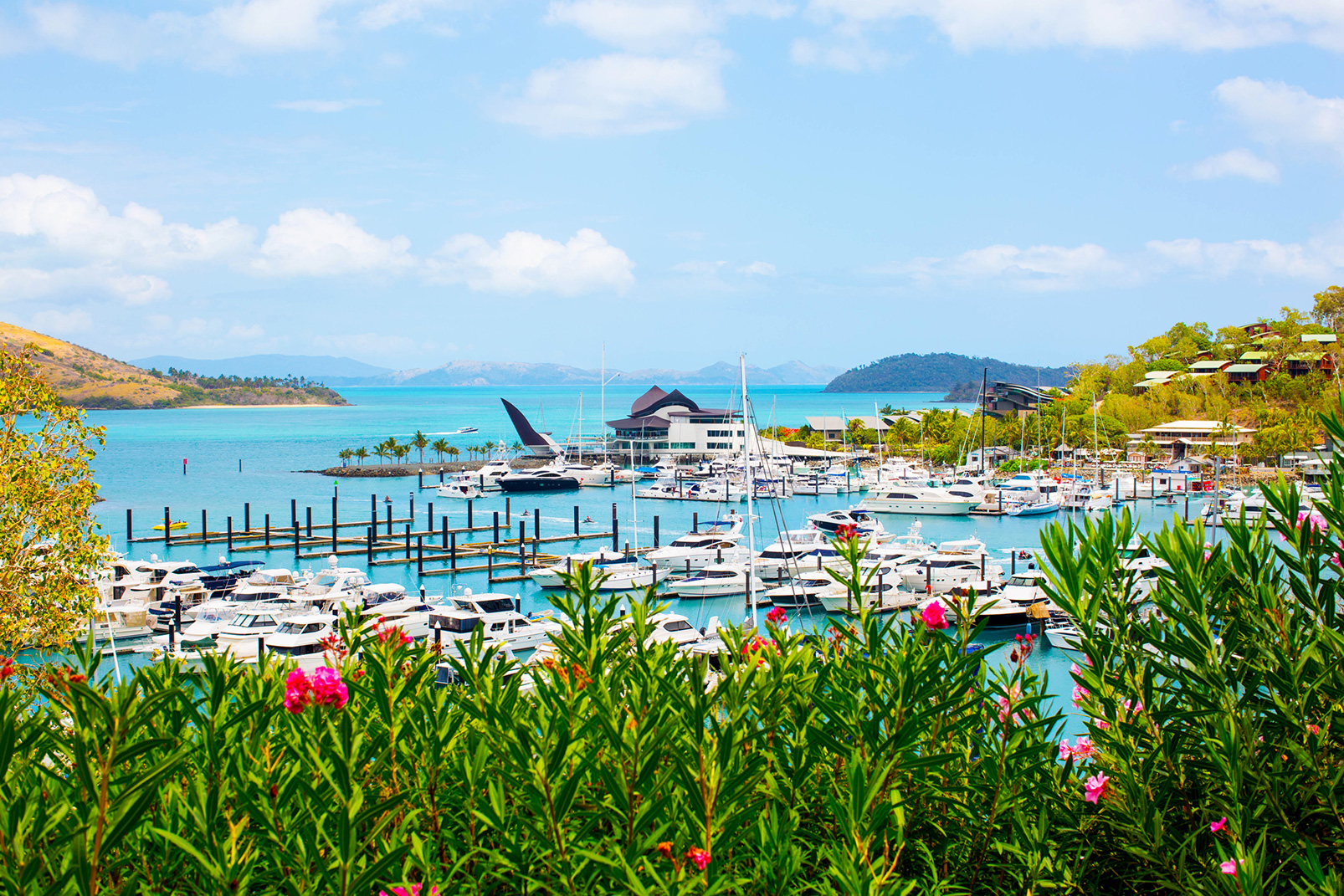 Dive & Dine
coca chu dining
Manta Ray dining
Sails dining
Romano's
Sails Peach and Strawberry Caprioska
Bommie Deck Bombay Chai Pina Colada
Hamilton Island is a nature lover's paradise.
As well as offering pristine scenery and underwater treasures not found anywhere else in the world, Hamilton Island is home to an array of Australian wildlife – including wallabies, goannas, sea eagles, kites, ospreys, sulphur-crested cockatoos and kookaburras.
One-Tree-Hill-morning
Gorgeous sunsets and Ideal view…
Additional Inclusions for Hamilton Island Guests
Kids Stay and Eat For Free
If you're staying at the Reef View Hotel, Palm Bungalows, or any Holiday Home booked through Hamilton Island Holiday Homes, you can also take advantage of the Kids Stay & Eat Free offer!
Non-Motorised Beach Water Sports
Guests staying at qualia, Beach Club, Reef View Hotel, Palm Bungalows and Hamilton Island Holiday Homes have free access to a range of water activities including catamarans, kayaks, stand up paddleboards and snorkelling equipment. Simply present your room key at the Beach Sports Hut on Catseye Beach.
Complimentary transport around the Island
Hamilton Island guests will receive complimentary door-to-door transfers from the airport or marina to their hotel. Guests also have access to a free Island shuttle service, which operates every day from 7am till 11pm.
Sports Club
Complimentary use of the Hamilton Island gym, spa, sauna and tennis courts for hotel guests staying at Palm Bungalows, Reef View Hotel or Beach Club.
Free Wireless Internet
Hotel guests have access to free in room WiFi. In addition, all Hamilton Island guests have access to WiFi hotspots located around the Island including the airport.
Arrivals & Departure Lounge
To make the most of your Hamilton Island holiday we have the easily accessible Arrivals and Departures Lounge located next to the main foyer at the Reef View Hotel for the exclusive use of the guests.
Here you can easily store possessions in lockers, use the shower or bathroom facilities to freshen up or grab a complimentary beach towel for use around the Island.
These amenities allow you to enjoy your time on the Island when you might not have access to a room (either pre check-in or after check-out) and ensure you maximise experiencing all that the Island has to offer.
Hamilton Island is an Awesome place in a precious side of Paradise… We highly recommend it for memorable holidays and unique experiences.
If you want to book your stay in Hamilton Island just visit the Pay 4 stay 5 nights at Hamilton Island
 and earn one night as a gift, if you stay four nights.
Enjoy…!